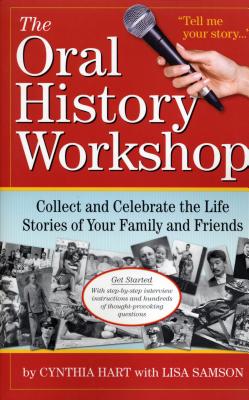 The Oral History Workshop (Paperback)
Collect and Celebrate the Life Stories of Your Family and Friends
Workman Publishing Company, 9780761151975, 180pp.
Publication Date: November 26, 2009
* Individual store prices may vary.
Description
We all know that we should ask now, before it's too late, before the stories are gone forever. But knowing and doing are two different things.

Cynthia Hart, author of Cynthia Hart's Scrapbook Workshop, shows exactly how to collect, record, share, and preserve a family member's or a friend's oral history in this practical and inspirational guide. The Oral History Workshop breaks down what too often feels like an overwhelming project into a series of easily manageable steps: how to prepare for an interview; how to become a better listener; why there's always more beneath the surface and the questions to ask to get there; the pros and cons of video recording, including how your subjects should dress so the focus is on their words; four steps to keeping the interview on track; how to be attentive to your subject's energy levels; and the art of archiving or scrapbooking the interview into a finished keepsake.

At the heart of the book are hundreds of questions designed to cover every aspect of your subject's history: Do you remember when and how you learned to read? Who in your life showed you the most kindness? What insights have you gained about your parents over the years? Would you describe yourself as an optimist or a pessimist? In what ways were you introduced to music? What is the first gift you remember giving? If you could hold on to one memory forever, what would it be? When the answers are pieced together, a mosaic appears—a living history.

About the Author
Cynthia Hart is a renowned designer and artist. She is the best-selling author of 
Cynthia Hart's Victoriana Calendar
and
 Cynthia Hart's Scrapbook Workshop
, and is co-author of
 The Oral History Workshop, The Love of Lace, A Victorian Scrapbook, Parlor Cats
, and other books. Her designs featuring collages of antique Victorian ephemera, textiles, and fresh flowers have been licensed to fragrance, gift, stationery, and home furnishing companies. Her website is
cynthiahartdesigner.com
.  
Lisa Samson, a co-founding partner of Pangolin Pictures, has produced documentaries for WNET, National Geographic, the Discovery Channel, and A&E. She holds a Master's degree in history and archival management from New York University. She lives in Brooklyn, New York, and Wilmington, Delaware.