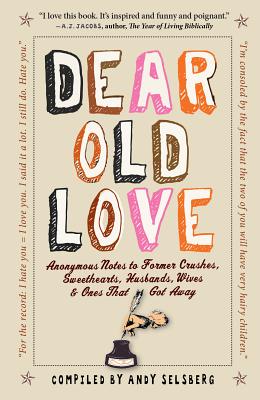 Dear Old Love (Hardcover)
Anonymous Notes to Former Crushes, Sweethearts, Husbands, Wives, & Ones That Got Away
Workman Publishing Company, 9780761156055, 180pp.
Publication Date: November 15, 2009
* Individual store prices may vary.
Description
Call it wisdom of the heart. Or the broken heart.

A knowing, funny gift for everyone who's ever been in love and then out of love: the newly single, the lonely-hearted, and even the happily re-paired. Dear Old Love is a collection of anonymous love notes to the ones who got away—or were left behind. They're the notes that ex-lovers have written to set the record straight. Or crooked. They're concise, witty, melancholy, revealing, sweet, sentimental, outrageous, withering, indignant, sometimes all at the same time. And like a pitch-perfect little poem, each entry paints a complete picture with just a handful of apt words: "A current snapshot of you erased 25 years of fantasizing about what could have been." Or: "I don't care that you miss my dog. When you cheated on me, you cheated on him, too." Or: "I say 'I love you' to people all the time now, to make that time I said it to you mean less."

And for anyone wanting help to write their own love note, the book ends with clever fill-ins: "I wonder if we'd still be together if I had just admitted I was a ____, instead of saying you had a ____ so big it blocked out the _____."  Try it on someone you loved.

About the Author
Andy Selsberg has written for The Onion, GQ, Oxford American, Salon.com, and other publications. He is also a adjunct lecturer of English at John Jay College, CUNY, and a former stand-up comedian. He lives in New York City and his website is www.dearoldlove.com.

or
Not Currently Available for Direct Purchase