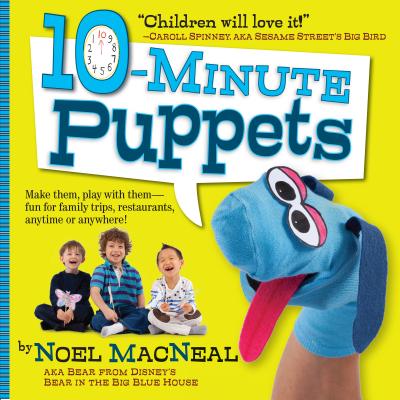 10-Minute Puppets (Paperback)
Workman Publishing Company, 9780761157144, 173pp.
Publication Date: November 1, 2010
* Individual store prices may vary.
Description
It's the Swiss Army knife of activity books: how to make puppets anywhere, in ten minutes or less, using everyday materials. And who better to create it than Noel MacNeal, a longtime puppeteer who learned his art from Jim Henson and Frank Oz. MacNeal shows parents and kids how to make 30 puppets using socks, paper bags, napkins, and the most important tools of all—your two hands.

10-Minute Puppets is filled with imaginative ideas, energy, and the pure, childlike pleasure of turning objects into characters. There are finger puppets: Wigglin' Worm in an Apple, Teeny Ballerina, Little Pachyderm Sock and glove puppets: Crabby Crab and Herb the Plant Cutouts, shadow puppets, and puppets perfect for the spur-of-the moment, like Envelope Bird—make it using a deposit envelope while waiting in line at the bank. With full-color illustrations throughout, the book has step-by-step instructions for each puppet; pages of puppet parts and bodies to cut out and use; how to create simple puppet theaters; plus, a final chapter with ideas for putting on a show, drawing on nursery rhymes, fairy tales, family stories, and more.

So the food is late and your six-year-old is about to lose it. You know what to do: Using a marker and your napkin, make the fashionable Lady Finger and start entertaining. Better yet, pass the marker to your child to create Handford, and the two of you can put on an impromptu dinner show. 
About the Author
Noel MacNeal is a puppeteer for PBS's award-winning Sesame Street and a regular performer with the Muppets. He was also the spirit and voice of Bear in the Emmy Award–winning series Bear in the Big Blue House on the Disney Channel. He and his family live in Brooklyn, where he makes puppets and performs for his five-year-old son.
or
Not Currently Available for Direct Purchase