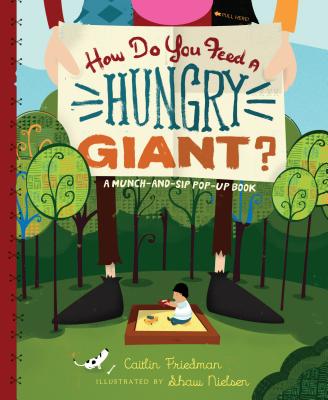 How Do You Feed a Hungry Giant? (Hardcover)
A Munch-and-Sip Pop-Up Book
Workman Publishing Company, 9780761157526, 30pp.
Publication Date: October 15, 2011
* Individual store prices may vary.
Description
Kids are never too young to learn about helping others—that when people are in need, the right thing to do is to step up.

When a boy named Oscar discovers a giant—a very hungry giant holding a sign that says "Food Please"—in his backyard, he knows he can't turn his back on him Yet it's not easy feeding a hungry giant. A whole pizza disappears in a single gulp. Twelve blueberry muffins, 33 jars of peanut butter, 197 chocolate chip cookies—all just an appetizer. So what is little Oscar to do? Just how do you feed a hungry giant?

In this warmly illustrated and interactive picture book, the reader gets to help Oscar feed the giant. But despite Oscar's best efforts—he cleaned out the fridge AND the pantry!—the giant still remains hungry. That's when mom comes to the rescue. She has eight great recipes, including Mega-Pigs in Blanket, Jumbo Fries, The Biggest Burger in the World, Ginormous Blueberry Muffin. Each serves one giant—or eight kids. Yes, the "feed a giant" recipes are included in the book, printed in a separate 8-page mini cookbook, and are ideal for a kid's party.

So how do you feed a hungry giant? With giant food. And a giant heart.
About the Author
Caitlin Friedman is the author of The Girl's Guide series and other books. She lives with her husband and two children in Brooklyn, New York.
Shaw Nielsen was educated in San Francisco at the Academy of Art and currently resides in Denver.
Book Videos
or
Not Currently Available for Direct Purchase