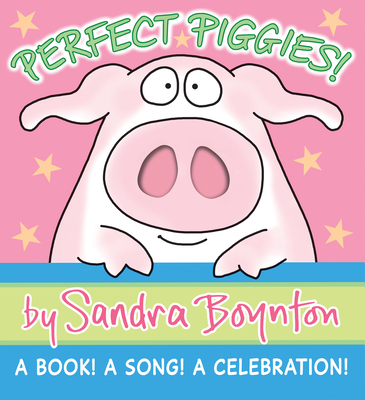 Perfect Piggies! (Boynton on Board) (Board book)
Workman Publishing Company, 9780761159933, 24pp.
Publication Date: May 26, 2010
* Individual store prices may vary.
Description
Piggies rock! So does Boynton. Through her eyes, her words, her music, and above all her art, we see the world with whimsy and pleasure, appreciating round noses and curly tails, floppy ears and pleasing plumpness. And we're lucky to give that gift to our youngest children.

A member of the amazing Boynton on Board series that has over 21 million copies in print, Perfect Piggies! also comes with a free downloadable song. Reminiscent of a cappella swing, it's a celebration of the homey—of beauty in the eye of the beholder, of sunshine and fresh air, and a place to put up our hooves when the day is done. And, of course, the catching energy and rhythmic language of a beloved original:

We are all perfect piggies and we know what we need. It's really very simple, very simple indeed: a troughful of food, a place in the sun, and a little bit of comfort when the day is done.

That goes for the rest of us, too.

 
About the Author
Sandra Boynton is a popular American cartoonist, writer, and songwriter. Since 1974, Boynton has written and illustrated over fifty children's books and seven general audience books, including five New York Times bestsellers. More than 60 million of her books have been sold—"mostly to friends and family," she says. She has also written and produced five albums of award-winning children's music. Three of her albums have been certified Gold, and Philadelphia Chickens, nominated for a Grammy, has gone Platinum. She lives with her family on a farm in New England.