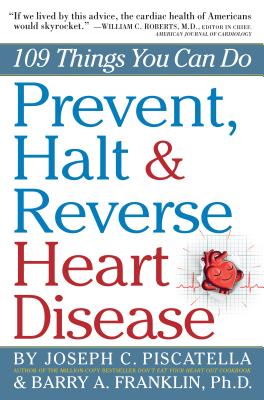 Prevent, Halt & Reverse Heart Disease (Paperback)
109 Things You Can Do
Workman Publishing Company, 9780761160731, 450pp.
Publication Date: January 13, 2011
* Individual store prices may vary.
Description
When your doctor delivers the news—you have heart disease, which afflicts one in three Americans (an estimated 81 million people)—you need exactly the kind of indispensable, plainspoken advice found in Prevent, Halt & Reverse Heart Disease. You need Joe Piscatella. A lay expert who's been lecturing to health professionals and Fortune 500 corporations for three decades, and who is one of the longest-lived survivors of bypass surgery— 41 years and counting—Piscatella shows how to take charge of one's cardiac health in a bold yet simple, easily understandable way.

Created by Mr. Piscatella and Dr. Barry Franklin, one of the nation's top cardiac rehab specialists, Prevent, Halt & Reverse Heart Disease was originally published in 2003 and is now completely revised and updated with the latest research on managing the #1 killer of American men and women. The book is divided into three sections: Cardiac Markers (10 of the most important risk factors are examined so that you can assess your risk and understand what the doctor is telling you); Life Skills (the 109 practical tips, from #3 increase your HDL level to #22 breathe deeply to #99 know your margarines to #109 floss your teeth); and Cardiac Basics (an explanation of contemporary tests and treatments). Throughout is information updated since the first edition, such as the recommended dose of baby aspirin per day, the importance of sleep, a smarter way to read food tables, the PLAC test, and more.
About the Author
Barry Franklin, Ph.D., is director of the Cardiac Rehabilitation and Exercise Laboratories in Royal Oak, Michigan, as well as professor at Wayne State University School of Medicine and the University of Michigan Medical School.
Author Joseph C. Piscatella has been a keen observer of American eating habits since 1977, when emergency open-heart surgery at the age of 32 forced him to recognize the intimate connection between dietary habits and overall health. His successful recovery and determination to make adjustment in his own lifestyle and diet inspired a new career as an active proponent of healthy lifestyle changes. As president of the Institute for Fitness and Health, Inc. in Tacoma, Washington, he lectures extensively to a variety of clients, including medical organizations, corporations and professional associations, and is a consultant on major wellness projects for Fortune 500 companies, the U.S. Army, U.S. Navy and U.S. Air Force. Cited in Time for their practicality and effectiveness, his seminars deal with the management of lifestyle habits to increase health, longevity and productivity. Mr. Piscatella is the only non-medical member of the National Institute of Health Cardiac Rehabilitation Expert Panel, which develops clinical practice guidelines for physicians. He is also a member of the Association for Worksite Health Promotion, the American Association of Cardiopulmonary Rehabilitation, and the National Wellness Association.