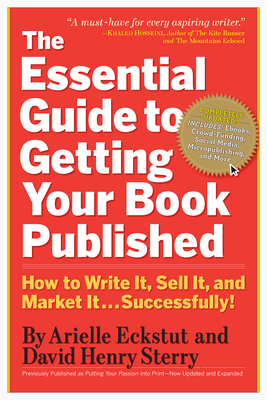 The Essential Guide to Getting Your Book Published
How to Write It, Sell It, and Market It . . . Successfully
Paperback

* Individual store prices may vary.
Description
A complete author's toolkit: The guide that demystifies every step of the publishing process.

No matter what type of book you want to write—fiction, nonfiction, humor, sci-fi, romance, cookbook, children's book—here is how to take an idea you're passionate about, develop it into a manuscript or proposal, get it published, and deliver it into the hands and hearts of readers. Includes interviews with dozens of publishing insiders—agents, editors, besteslling authors, and booksellers. Real-life success stories and the lessons they impart. Plus sample proposals and query letters, a resource guide, and more.

Updated to cover ebooks, self-publishing, digital marketing, the power of social media, and more.

This complete author's toolkit includes information on:- locating, luring, and landing an agent
- perfecting your pitch
- the nuts and bolts of a book proposal
- conquering the query letter
- finding the right publisher for YOU
- four steps to reaching readers online
- making Amazon work for you
- kickstarting your Kickstarter campaign
- the ins and outs of ebooks
- 10 things you should have on your author website
- turning rejection into a book deal
- new frontiers in self-publishing
 
Praise For The Essential Guide to Getting Your Book Published: How to Write It, Sell It, and Market It . . . Successfully…
Praise for The Essential Guide to Getting Your Book Published*

"A must-have for every aspiring writer . . . Thorough, forthright, quite entertaining."
—Khaled Hosseini, bestselling author of And the Mountains Echoed and The Kite Runner

"Before you write your own book, read this one. Arielle Eckstut and David Henry Sterry understand the process of publishing—their advice will help you envision and frame your work so that publishers will be more likely to perceive its value."
—Jonathan Karp, President and Publisher, Simon Schuster

"I started with nothing but an idea, and then I bought this book. Soon I had an A-list agent, a near six-figure advance, and multiple TV deals in the works. Buy it and memorize it. This tome is the quiet secret of rock star authors."
—Timothy Ferriss, Bestselling Author of The 4-Hour Workweek

"There is no way I would have landed a book deal without these two brilliant industry pros and their insider knowledge! This is not a mere guide. Eckstut and Sterry have—chapter and verse—written the bible for would-be authors of every stripe and genre."
—Ylonda Gault, author of Child, Please: How Mama's Old-School Lessons Helped Me Check Myself Before I Wrecked Myself

"I cannot emphasize enough how well this book prepared me for the path to getting published. It warns writers about inevitable ups and downs, but it kept me from having to learn about the publishing world through frustrating trial and error. It also provided much-needed encouragement through some initial rejections. Now that my book is published, I've run into many people wanting to know how the whole thing works, and I always refer them to this book."
—Roxanna Elden, Author of See Me After Class

"This is the book that has helped me every step of way in writing, marketing, and publishing my first book. Any time I had a question—whether it was about working with my editor, agent, or publicist—I knew where I could find the answer. My copy has been earmarked, bookmarked, highlighted, annotated, and loved. Arielle and David are the best guides around if you are looking to get your book out in the world. And as a bookseller, I love putting The Essential Guide in the hands of writers and aspiring authors. I know that I'm giving them the best possible resource for understanding the ever-changing publishing landscape."
—Melissa Cistaro, author of Pieces of My Mother: A Memoir

"This is a terrific book. It's practical, it's fun to read, and it totally demystifies the publishing process. Whether you are just setting out to write a book, or already have several published books under your belt, you will find this an invaluable resource. There is no doubt in my mind that it will become a standard of the industry, sitting right alongside Writer's Market and The Chicago Manual of Style. (And let me tell you—it's a much better read than either of those books could ever dream of being!)"
—Rick Beyer, author of The Greatest Stories Never Told Series

"We had been working on our first project for several years, on our own, and struggling without any guidance. We were really discouraged by the entire process. Without The Essential Guide to Getting Your Book Published, we'd still be stuck in literary limbo. Now, with two books published, we're working on our third!"
—Ayesha Mattu and Nura Maznavi, Authors of Love, InshAllah: The Secret Love Lives of American Muslim Women and Salaam, Love: American Muslim Men on Love, Sex, and Intimacy

"Once I ratcheted up the nerve to self-publish my first novel, I realized there were two ways to do it: Close my eyes, hold my breath, and hit the publish button, or learn everything I needed to know to do it professionally and successfully. I opted for the latter, bought The Essential Guide to Getting Your Book Published, and read it from cover to cover. Then I rolled up my sleeves and got to work. As a result, my book hit #1 on Amazon's commercial fiction list."
—Eva Lesko Natiello, author of The Memory Box

"[The Essential Guide to Getting Your Book Published] offers aspiring authors refreshingly honest, knowledgeable, and detailed advice on not only how to get published, but how to deal with every phase of the publishing process, constructively and realistically. It's an invaluable resource for anyone who dreams about having his/her book not only published, but published well."
—Jamie Raab, Publisher, Grand Central

"From coming up with an idea to promoting the finished book, these insiders tell you what you need to know and inspire you to do it—with wit, charm, and a thorough knowledge of what they write."
—Amy Cherry, Editor, W. W. Norton


* Previously published as Putting Your Passion into Print
Workman Publishing Company, 9780761160854, 544pp.
Publication Date: November 4, 2010
About the Author
Arielle Eckstut and David Henry Sterry are co-founders of The Book Doctors. They have written 25 books between them. David's last book appeared on the cover of The New York Times Book Review. Arielle is an agent-at-large for the Levine Greenberg Rostan Literary Agency.