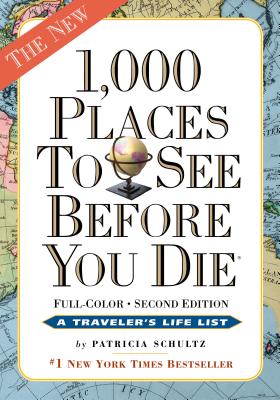 1,000 Places to See Before You Die
Completely Revised and Updated with Over 200 New Entries
Hardcover

* Individual store prices may vary.
Other Editions of This Title:
Paperback (7/1/2015)
Prebound (7/1/2015)
Description
The world's bestselling travel book is back in a more informative, more experiential, more budget-friendly full-color edition. A #1
New York Times
bestseller,
1,000 Places
reinvented the idea of travel book as both wish list and practical guide. As Newsweek wrote, it "tells you what's beautiful, what's fun, and what's just unforgettable— everywhere on earth." And now the best is better. There are 600 full-color photographs. Over 200 entirely new entries, including visits to 28 countries like Lebanon, Croatia, Estonia, and Nicaragua, that were not in the original edition. There is an emphasis on experiences: an entry covers not just Positano or Ravello, but the full 30-mile stretch along the Amalfi Coast.
Every entry from the original edition has been readdressed, rewritten, and made fuller, with more suggestions for places to stay, restaurants to visit, festivals to check out. And throughout, the book is more budget-conscious, starred restaurants and historic hotels such as the Ritz,but also moderately priced gems that don't compromise on atmosphere or charm.
The world is calling. Time to answer.
Praise For 1,000 Places to See Before You Die: Completely Revised and Updated with Over 200 New Entries…
"Globe-trotters and vicarious adventure-seekers alike will find this full revamp of a world traveler's bible even more informative and inspiring than before."
- ENTERTAINMENT WEEKLY
"[1,000 Places to See Before You Die] has joined the canon of classic reference tomes that earn periodic updates and cozy homes on the bookshelf next to the thesaurus. It is sure to land under many trees this year."
- TIME.com
"Schultz has given her iconic guide a complete makeover. With 500 new photographs, 200 new entries and 28 new countries, the second edition is more informative, budget-conscious and user-friendly."
- BOOKPAGE
"It's a big world out there, which makes it hard to decide on a vacation destination. The Internet can seem just as vast when it comes time to research. That's why Patricia Schultz's 1,000 Places to See Before You Die deserves a place on your bookshelf. The revised version of the 2003 bestseller is a great inspiration tool that includes both the obvious…and the less so."
- THE WASHINGTON POST
"She [Schultz] has managed to work a little literary magic here—and still keep her original 1,000 favorite places—by reorganizing and rewriting the content of the first edition. As always, her entries are irresistibly idiosyncratic, from 'Beer in Belgium' to 'The Last Supper' and Other Works of Leonardo Da Vinci.'"
- CHICAGO TRIBUNE
"The names of authors who have sold millions of travel guidebooks are widely known: Fodor. Frommer. Steves. Oh, and don't forget Schultz. You know, Patricia Schultz. Still not familiar? Her signature title surely is: '1,000 Places to See Before You Die.' The travel expert who launched legions of bucket lists back in 2003 (before we even knew what a bucket list was) has just come out with a massive, full-color second edition and companion iPad app."
- SAN JOSE MERCURY NEWS
"Whether they're outdoor adventures or simply armchair travelers, readers on your holiday list will enjoy 1,000 Places to See Before You Die. Informative, clear and accessible."
- VENTURA COUNTY STAR
"The perennial guide to iconic travel destination is back with a brand-new edition. We read the entire book, stopping to gasp, comment and bookmark several pages along the way."
- THE HUFFINGTON POST
"Patricia Schultz's classic bucket list book of travel musts have been updated, and the second edition has full color, revised information and about 200 new entries. It's fun to peruse when putting together your travel wish list."
- CHICAGO SUN-TIMES
"For travelers who think they've seen it all, surely there's a place you haven't visited in this newly revised classic bestseller."
- PITTSBURGH POST-GAZETTE
"1,000 Places to See Before You Die is out in a new full-color second edition, and should set anybody's imagination soaring. It is a book to browse under the Snuggie on a long winter night and daydream with."
- DELAWARE STAR NEWS
Workman Publishing Company, 9780761163374, 1200pp.
Publication Date: November 15, 2011
About the Author
Patricia Schultz is the author of the #1 New York Times bestsellers 1,000 Places to See Before You Die and 1,000 Places to See in the United States and Canada Before You Die. A veteran travel journalist with 30 years of experience, she has written for guides such as Frommer's and Berlitz and periodicals including The Wall Street Journal and Travel Weekly, where she is a contributing editor. She also executive-produced a Travel Channel television show based on 1,000 Places to See Before You Die. Her home base is New York City.