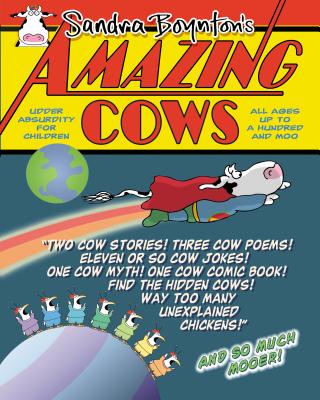 Amazing Cows (Hardcover)
Udder Absurdity for Children
Workman Publishing Company, 9780761163718, 96pp.
Publication Date: November 25, 2010
* Individual store prices may vary.
Description
From Sandra Boynton—as it could only come from Boynton—an inventive exuberant jumble of a book for the young reader. Amazing Cows is a picture book, a storybook, a book of fun and games—it's all those things in one. Plus it even shows you how to find the startling recording of Maurice Ravel's "Bolero Completely Unraveled for Orchestra and Kazoos" performed by Sandra Boyton & The Highly Irritating Orchestra. (Running time is 17:14, but seems MUCH longer.)

A work of pure obsession, Amazing Cows celebrates cows and offbeat cowness with a miscellany of cow stories, cow poems, cow jokes, and other bovine ephemera. Along the way, expect lively guest appearances by ducks, pigs, and excessive numbers of chickens. There's a song: "It Had to Be Moo." A game: "Find the Hidden Cows." Famous Barnyard Composers (surely you've heard of Wolfgang Amadeus Moozart and Johann Sebastian Bockbockbock). Knock-knock jokes, a cow myth, and an Amazing Cow comic-book adventure: "Trouble on Zebblor 7." Cow fashion. Cow Limericks. How to Speak Cow. Plus so much mooer.

Amazing Cows is full-color, 96 pages long, and packed with the kind of silly fun that young readers adore, especially when they can read it to themselves—and then read it to their parents, and then to their little brothers, and then to the family dog. Or the family cow.
 
About the Author
Sandra Boynton is a popular American cartoonist, writer, and songwriter. Since 1974, Boynton has written and illustrated over fifty children's books and seven general audience books, including five New York Times bestsellers. More than 60 million of her books have been sold—"mostly to friends and family," she says. She has also written and produced five albums of award-winning children's music. Three of her albums have been certified Gold, and Philadelphia Chickens, nominated for a Grammy, has gone Platinum. She lives with her family on a farm in New England.


 
Praise For Amazing Cows: Udder Absurdity for Children…
Not since the heyday of Gary Larson has so much adoration been shown to bovines. With her trademark irreverence, Boynton offers an impassioned and hyperbolic ode to cows, replete with jokes, a spread devoted to cow fashion, a cow "myth" that takes place in ancient Athens ("though Fort Lauderdale is also a strong possibility"), limericks, and puns aplenty. One highlight is a comic "from the golden age of overambitious farm animals," featuring a shy research assistant whose alter ego is the cape-wearing superhero, Amazing Cow. Those seeking hard facts about cows are mooing up the wrong tree; those in the mood for "udder chaos" need look no further. It's pure fun. -- Publisher's Weekly
or
Not Currently Available for Direct Purchase