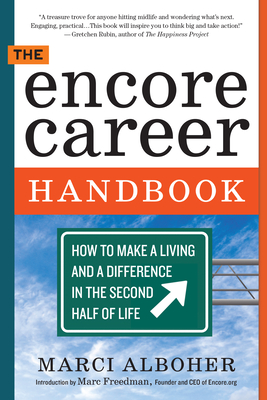 The Encore Career Handbook (Paperback)
How to Make a Living and a Difference in the Second Half of Life
Workman Publishing Company, 9780761167624, 336pp.
Publication Date: December 18, 2012
* Individual store prices may vary.
Description
Until recently, most Americans equated the end of a successful career with the beginning of retirement. No more. Now they want to stay in the game (or better, change the game). They want to leave a mark. Make a difference—and continue to make money. From Encore.org, the leading organization in the field, comes a road map to every step of the encore career journey. Here's how to plan the transition. How much you need to make. The pros and cons of going back to school. When to volunteer, and when to intern. How to network effectively and harness the power of social media. Who's hiring and for what jobs? (Check out the Encore Hot List of 35 viable careers). A comprehensive, nuts-and-bolts guide, filled with inspiring stories and answering—in extensive FAQ sections—the concerns of its readers, this book is everything you need to help you strike a balance between doing good and doing well--in a way that will sustain you through this new stage of life.
About the Author
Marci Alboher is a vice president of Encore.org, the leading nonprofit organization making it easier for millions of people to pursue second acts for the greater good. She is also the author of One Person/Multiple Careers, and created the Shifting Careers column and blog for The New York Times. Her work and commentary have been featured in countless national media outlets including USA Today, and NBC's Today show. Ms. Alboher lives with her husband in New York City.Follow Marci (@heymarci) and Encore.org (@encorecareers) on Twitter.
Praise For The Encore Career Handbook: How to Make a Living and a Difference in the Second Half of Life…
"An invaluable resource."
—The Associated Press
"If you're looking for a new passion, purpose, and paycheck in the second half of your life, author Marci Alboher is here to help."
— NBC'sTodayShow
"A practical, energizing and essential guide…Alboher capably takes you by the hand and calmly walks you through the process of how to plan your transition step-by-step…leaves no stone unturned."
—USA Today
"An engaging new practical guide."
—MSN.com
"The career-change bible for adults age 45 and older."
—Examiner.com
 "Jam-packed with excellent practical guidance."
—Boston.com
"An invaluable resource."
—The Associated Press
"If you're looking for a new passion, purpose, and paycheck in the second half of your life, author Marci Alboher is here to help."
— NBC'sTodayShow
"A practical, energizing and essential guide…Alboher capably takes you by the hand and calmly walks you through the process of how to plan your transition step-by-step…leaves no stone unturned."
—USA Today
"An engaging new practical guide."
—MSN.com
"The career-change bible for adults age 45 and older."
—Examiner.com
 "Jam-packed with excellent practical guidance."
—Boston.com
— Lester Strong, vice president and chief executive officer, AARP Experience Corps
Book Videos