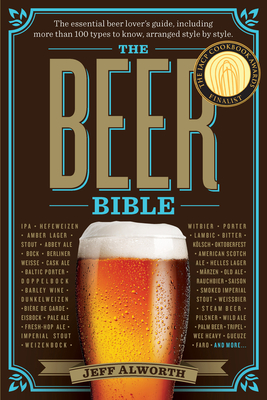 The Beer Bible (Paperback)
Workman Publishing Company, 9780761168119, 656pp.
Publication Date: August 11, 2015
Other Editions of This Title:
Hardcover (8/11/2015)
* Individual store prices may vary.
Description
"The only book you need to understand the world's most popular beverage. I swear on a stack of these, it's a thumping good read."––John Holl, editor of All About Beer Magazine and author of The American Craft Beer Cookbook
 
Imagine sitting in your favorite pub with a friend who happens to be a world-class expert on beer. That's this book.
 
It covers the history: how we got from gruel-beer to black IPA in 10,000 years. The alchemy: malts, grains, and the miracle of hops. The variety: dozens of styles and hundreds of recommended brews (including suggestions based on your taste preferences), divided into four sections––Ales, Wheat Beers, Lagers, and Tart and Wild Ales––and all described in mouthwatering detail. The curiosity: how to read a Belgian label; the talk of two Budweisers; porter, the first superstyle; and what, exactly, a lager is. The pleasure. Because you don't merely taste beer, you experience it.

Winner of a 2016 IACP Award 

"Covers a lot of ground, from beer styles and brewing methods to drinking culture past and present. There's something for beer novices and beer geeks alike."––Ken Grossman, founder, Sierra Nevada Brewing Co.
 
"Erudite, encyclopedic, and enormously entertaining aren't words you normally associate with beer, but The Beer Bible is no ordinary beer book. As scinitillating, diverse, and refreshing as man's oldest alcoholic beverage itself."––Steve Raichlen, author of Project Smoke and How to Grill
About the Author
Jeff Alworth has been writing about beer and brewing for twenty years. He is the author of The Beer Bible (Workman, 2015), Cider Made Simple (Chronicle, 2015), and The Beer Tasting Toolkit (Chronicle, 2012). He is a columnist for All About Beer and has written for a number of magazines and newspapers, and he blogs about beer at his popular site, Beervana. He lives and brews in Portland, Oregon.

 
Praise For The Beer Bible…
"… a box of treats… It's a delight to find a book about beer that covers the subject in such breadth and depth at the same time as making it seem fresh and new again" – Pete Brown, All About Beer

"A must-read." – Craft Beer & Brewing

"Jeff Alworth has an impressive track record as a leading exponent of the global craft beer movement… this tome will educate and leave you thirsty for a cold one"  – Book Page

"a tome worthy of its name" – Food+Wine.com

"Beer enthusiasts will welcome this guide that feels like one is spending time with a well-versed drinking pal" – Library Journal

"The Beer Bible endows beer lovers with the same incredible depth and scope of information that Karen MacNeil's The Wine Bible gave to enophiles" – Tasting Panel Magazine