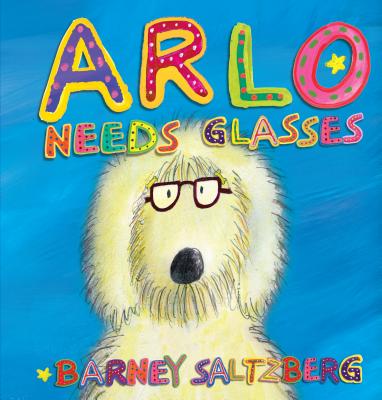 Arlo Needs Glasses
Hardcover

* Individual store prices may vary.
Description
Every child who wears glasses will know just how Arlo feels, and will feel better because of it. And every parent will want that child to know that glasses are cool and fun and enable us to do the things we want to do. Take Arlo: He's a shaggy, free-spirited dog who loves to play catch, until one day he can't. He can't see the ball anymore. He needs glasses!

In this inventive, interactive (and now revised) picture book created by Barney Saltzberg, the bespectacled author of Beautiful Oops!, who charms young readers and their parents with a perfect light touch and joyful spirit, kids get to do just what Arlo does to solve his problem. They read an eye chart, look through a lift-the-flap phoropter (that big machine optometrists use), and try on different pairs of glasses—movie star glasses! superhero glasses! mad scientist glasses! And they interact with Arlo as he rediscovers how to be the best ball-catcher in the neighborhood and picks up a new favorite pastime along the way—reading! One out of five school-age children needs glasses. Arlo will show them just how lucky they are.
Workman Publishing Company, 9780761168799, 24pp.
Publication Date: May 22, 2012
About the Author
Barney Saltzberg is the author of more than 30 books for children, including Beautiful Oops!, My Book of Beautiful Oops!, Good Egg and the bestselling Touch and Feel Kisses series. Additionally, he's recorded four albums of songs for children. He lives in Los Angeles with his wife, two dogs, and a pond full of fish.
Book Videos