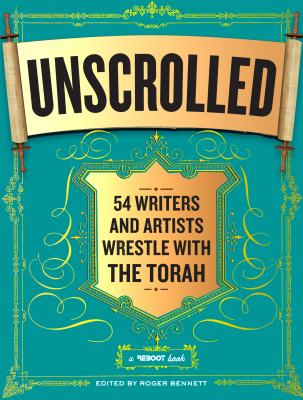 Unscrolled (Paperback)
54 Writers and Artists Wrestle with the Torah
Workman Publishing Company, 9780761169192, 384pp.
Publication Date: September 24, 2013
* Individual store prices may vary.
Description
Announcing a smart, daring, original new take on the Torah. Imagine: 54 leading young Jewish writers, artists, photographers, screenwriters, architects, actors, musicians, and graphic artists grappling with the first five books of the Bible and giving new meaning to the 54 Torah portions that are traditionally read over the course of a year. From the foundational stories of Genesis and Exodus to the legalistic minutiae of Leviticus, Numbers, and Deuteronomy, Unscrolled is a reinterpreting, a reimagining, a creative and eclectic celebration of the Jewish Bible.

Here's a graphic-novel version of Moses receiving the Ten Commandments, by Rebecca Odes and Sam Lipsyte. Lost creator Damon Lindelof writing about Abraham's decision to sacrifice his son. Here's Sloane Crosley bringing Pharaoh into the 21st century, where he's checking out "boils," "lice," and "plague of frogs" on WebMD. Plus there's Joshua Foer, Aimee Bender, A. J. Jacobs, David Auburn, Jill Soloway, Ben Greenman, Josh Radnor, Adam Mansbach, and more.

Edited by Roger Bennett, a founder of Reboot, a network of young Jewish creatives and intellectuals, Unscrolled is a gathering of brilliant, diverse voices that will speak to anyone interested in Jewish thought and identity—and, with its singular design and use of color throughout, the perfect bar and bat mitzvah gift. First it presents a synopsis of the Torah portion, written by Bennett, and then the story is reinterpreted, in forms that range from the aforementioned graphic novel to transcripts, stories, poems, memoirs, letters, plays, infographics, monologues—each designed to give the reader a fresh new take on some of the oldest, wisest, and occasionally weirdest stories of the Western world, while inspiring new ideas about the Bible and its meaning, value, and place in our lives.
About the Author
Reboot is a national network of young, creative Jews founded on the belief that every generation must grapple with the questions of identity, community, and meaning on its own terms. Reboot has created over 100 projects, including the National Day of Unplugging; the international architecture contest Sukkah City; and the Idelsohn Society for Musical Preservation, a record label and archive dedicated to tracking down lost Jewish music and the musicians who created it. Roger Bennett, writer, broadcaster, and cofounder of Reboot, is the author of several books, including Bar Mitzvah Disco. He lives with his family in New York City.
Praise For Unscrolled: 54 Writers and Artists Wrestle with the Torah…
"[The contributors] bring a modern sensibility and playful edge to the biblical text . . . Their new readings will inspire new insight, new meanings, new light."
—Jewish Woman