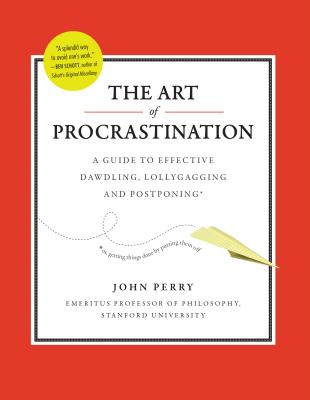 The Art of Procrastination
A Guide to Effective Dawdling, Lollygagging and Postponing
Hardcover

* Individual store prices may vary.
Other Editions of This Title:
Digital Audiobook (8/27/2012)
Compact Disc (8/28/2012)
MP3 CD (8/28/2012)
Paperback, Spanish (3/31/2013)
Description
At last: Self-help for procrastinators. (The secret: acceptance!) 

Filled with charm, tongue-in-cheek wit, and the insights of a lifelong introspective dawdler, The Art of Procrastination is a philosophical self-help program for every reader who suffers the pangs of being a  procrastinator.

John Perry celebrates this nearly universal character flaw by pointing out how often procrastinators are, paradoxically, doers. They may not be accomplishing everything on their to-do lists, but that doesn't make them slackers. It just indicates a need to rethink the to-do list. He also introduces the philosophical notion of akrasia (the mystery of why we often choose to act against our better judgement), examines the torturous relationship between procrastination and perfectionism, and shows how to give yourself permission to do an imperfect but, in fact, perfectly good job.

These are strategies—task triage, horizontal organization. Underlying causes—right-parenthesis deficit disorder. Anecdotes and ideas. But above all, an attitude of acceptance. Pat yourself on the back for what you manage to get done—but don't stop enjoying that time you waste, too. Who knows where daydreams will lead?
 
Praise For The Art of Procrastination: A Guide to Effective Dawdling, Lollygagging and Postponing…
"A splendid way to avoid one's work."
—Ben Schott, author of Schott's Original Miscellany

"Do not put off reading this charming guide to more effective procrastination. Dr. Perry is the Fabius Cunctator in our war against the Hannibal of the undone. Be gone, elephants of nagging duty.
—P. J. O'Rourke, author of Holidays in Hell

"Insightful, sensible, and amusing."
—Harry G. Frankfurt, author of On Bullshit

"John Perry is the wittiest philosopher since Marx (Groucho), and he brings to this book a delightful combination of wisdom and humor."
—Thomas Cathcart, coauthor  of Plato and a Platypus Walk into a Bar . . .

"The Art of Procrastination is a gem—its practical wisdom as spot-on as its humor. Now that I've devoured this hilarious and insightful tome, I not only know that I'm a structured procrastinator, but I've also picked up some invaluable tips on how to fool myself into being more productive, which to put to use someday."
—Rebecca Newberger Goldstein, author of 36 Arguments for the Existence of God: A Work of Fiction

"What are you waiting for? Read this book!"
—Patricia Marx, author of Starting from Happy

"John Perry's book is lively, funny, engaging and wise. And—fortunately for procrastinators—short. It's just the thing for a moment or two away from the task at hand!"
—Timothy A. Pychyl, PhD, author of The Procrastinator's Digest

"I intend to write a rave about The Art of Procrastination just as soon as I've cleared my desk this afternoon—or at least by first thing tomorrow—because reading this straight-talking, badly needed book has changed my life."
—Bruce McCall, writer and illustrator for The New Yorker

"There are lessons both deep and funny to be found in our capacity to put things off, and Perry is the ideal guide—a writer of superlative wisdom and wit. Forget whatever you were supposed to do next, and read this book."
—Mark Kingwell, PhD, coauthor of The Idler's Glossary

"The Art of Procrastination rings startlingly true. Perry reconstructs the inner dialogue of the procrastinator with a droll, lighthearted style that has inspired me to try his strategies (alarm clocks, self-deceptions, and self-forgiveness).
—Patrick Byre, CEO, Overstock.com
Workman Publishing Company, 9780761171676, 112pp.
Publication Date: August 28, 2012
About the Author
John Perry is an emeritus professor of philosophy at Stanford University and currently teaches at UC Riverside.
He is the co-host of the nationally syndicated public radio program Philosophy Talk, and winner, in 2011, of an Ig Nobel Prize in Literature for the essay "Structured Procrastination." He lives with his wife in Palo Alto, California.
Coverage from NPR