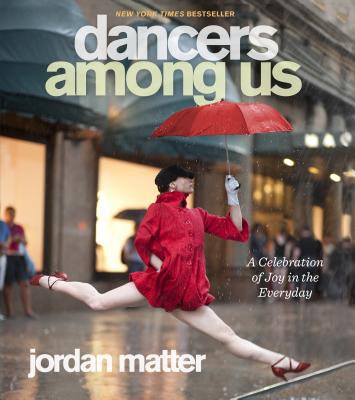 Dancers Among Us
A Celebration of Joy in the Everyday
Paperback

* Individual store prices may vary.
Other Editions of This Title:
Prebound (11/6/2012)
Description
The mystery of the body in motion. The surprise of seeing what seems impossible. And the pure, joyful optimism of it all. Dancers Among Us presents one thrilling photograph after another of dancers leaping, spinning, lifting, kicking—but in the midst of daily life: on the beach, at a construction site, in a library, a restaurant, a park. With each image the reader feels buoyed up, eager to see the next bit of magic.

Photographer Jordan Matter started his Dancers Among Us Project by asking a member of the Paul Taylor Dance Company to dance for him in a place where dance is unexpected. So, dressed in a commuter's suit and tie, the dancer flew across a Times Square subway platform. And in that image Matter found what he'd been searching for: a way to express the feeling of being fully alive in the moment, unself-conscious, present.

Organized around themes of work, play, love, exploration, dreaming, and more, Dancers Among Us celebrates life in a way that's fresh, surprising, original, universal. There's no photoshopping here, no trampolines, no gimmicks, no tricks. Just a photographer, his vision, and the serendipity of what happens when the shutter clicks.
Praise For Dancers Among Us: A Celebration of Joy in the Everyday…
"Bodies of breathtaking grace and agility transform ordinary spaces, seemingly defying gravity as they plié and pirouette through busy streets, a record shop, along a heliport tarmac, and under the Santa Monica boardwalk."
—O, The Oprah Magazine
— The Washington Post
"In his shots of dancers in flight on sidewalks and city streets — excitable superheroes among us — Matter has produced a series of mini-musicals, frozen in time but full of energy."
—The Washington Post
— Smithsonian magazine
"It's a rare book that contains anything of interest on the copyright page, but this caught my eye: 'No trampolines or other devices were used in the taking of the photographs in this book, and the dancers' poses have not been digitally enhanced or altered.' It's not hard to see why the author felt that such a disclaimer was necessary; the photographs in this book are unbelievable."
—Smithsonian magazine
— Redbook
"The pictures in Dancers Among Us of pro hoofers getting their jeté on in public is a call to find the joy in everyday life—and to give in to that urge to boogie no matter where or when it hits you."
—Redbook
— Dance magazine
"Honest and spontaneous, his pictures are sure to resonate with dancers and non-dancers alike."
—Dance magazine
— Alan Cumming
"Eye-popping fun."
–The Chicago Sun-Times
Workman Publishing Company, 9780761171706, 240pp.
Publication Date: October 23, 2012
About the Author
Jordan Matter, a portrait and dance photographer, is the author of the New York Times bestseller Dancers Among Us. He is a viral phenomenon with over two million followers on social media. His YouTube series, "10 Minute Photo Challenge", has been viewed over 100 million times. "In Jordan Matter's photos, dancers make all the world their stage," wrote The New York Times." He has presented his work to a wide variety of organizations, including ESPN, the National Arts Club, the School of Visual Arts, Adorama Camera, B&H Photo, and Middlesex College. Matter was an Arts Envoy through the State Department on a speaking tour of South Korea sponsored by the U.S. Embassy. He and his work have been featured in ABC World News, Nightline, Late Night with Seth Meyers, Today, the BBC, The New York Times, Huffington Post, Daily Mail, UK, O, the Oprah Magazine, NPR, and New York Magazine, and in newspapers, magazines and exhibitions all over the world. He lives in New York.
Book Videos