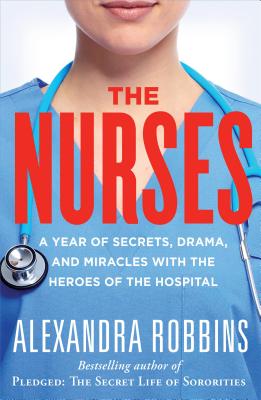 The Nurses
A Year of Secrets, Drama, and Miracles with the Heroes of the Hospital
Hardcover

* Individual store prices may vary.
Other Editions of This Title:
Digital Audiobook (4/18/2016)
Paperback (4/19/2016)
Description
Nursing is more than a career; it is a calling, and one of the most important, fascinating, and dangerous professions in the world. As the frontline responders battling traumas, illnesses, and aggression from surprising sources, nurses are remarkable. Yet contemporary literature largely neglects them.

In THE NURSES, New York Times bestselling author and award-winning journalist Alexandra Robbins peers behind the staff-only door to write a lively, fast-paced story and a riveting work of investigative journalism. Robbins followed real-life nurses in four hospitals and interviewed hundreds of others in a captivating book filled with joy and violence, miracles and heartbreak, dark humor and narrow victories, gripping drama and unsung heroism.

Alexandra Robbins creates sympathetic, engaging characters while diving deep into their world of controlled chaos—the hazing ("nurses eat their young"); sex (not exactly like on TV, but it happens more often than you think); painkiller addiction (disproportionately a problem among the best and brightest); and bullying (by doctors, patients, and others). The result is a page-turner possessing all the twists and turns of a brilliantly told narrative—and a shocking, unvarnished examination of our healthcare system.
 
THE NURSES is a must-read both for the general public, who will learn hospital secrets that could save their own or a loved one's life, and for nurses, who will proudly share the book as a rallying cry for support and celebration.
Praise For The Nurses: A Year of Secrets, Drama, and Miracles with the Heroes of the Hospital…
"A funny, intimate & often jaw-dropping account of life behind the scenes.." —People

"...a detailed, sympathetic, and eye-opening portrait of how nurses work, deal with stresses, and fulfill their mission of serving patients...An insightful perspective on the realities of crucial health care providers." —Kirkus Reviews

"After interviewing hundreds, Robbins narrowed her focus to the personal narratives of four nurses.... Their stories are compelling in every way."  —Bookpage

"...dishes eye-opening material." —Publishers Weekly

"Anyone who has ever set foot in a hospital—or might in the future—would do well to read this book. With page-turning prose, Robbins pulls back the curtain on a world rife with joy and challenge. It's brutally honest, emotional, and most of all, a paean to nurses—the people who help us live, die, and survive every day." — Rachel Simmons, author of Odd Girl Out

"Nurses are the unseen warriors of the hospital system, part of a 'secret club' of heroes with its own rules and codes. They're also strong-willed, flawed human beings made of flesh and (unafraid of) blood, rendered here in stunning detail. This fascinating and compulsively readable book even has a few tricks that could save your life. First tip: Don't get sick in July."  — Mickey Rapkin, author of Pitch Perfect

"A fascinating and somewhat alarming examination of the contemporary nursing profession...Robbins not only shows, she tells in this revealing expose of the modern day state of nursing. It is an eye-opener not to be missed." —EarlyWord

"Readers... will find themselves guided by an excellent stylist and a first-rate mind." —Houston Chronicle
 
"Alexandra Robbins writes reality TV in book form." —New Jersey Star-Ledger

"A rich, fast-paced book about heroic, neglected professionals; editor's recommendation." —Barnes and Noble
"The Nurses' is exciting and honest, from admission to release. Robbins…busts myths, shows the inner workings of emergency rooms, offers golden advice, and explains behind-the-scenes events and why nurses deserve way more kudos than they get."  —The Daily News

"...dramatic and riveting...Robbins has done an excellent job of bringing the world of nurses to life." —The Examiner
 
Workman Publishing Company, 9780761171713, 368pp.
Publication Date: April 14, 2015
About the Author
Alexandra Robbins, winner of the prestigious 2014 John Bartlow Martin Award for Public Interest Magazine Journalism, is the author of four New York Times bestsellers, including Pledged and The Geeks Shall Inherit the Earth. She has written for The New Yorker, Vanity Fair, The New York Times, and other publications, and has appeared on numerous television shows from 60 Minutes to The Colbert Report.
or
Not Currently Available for Direct Purchase