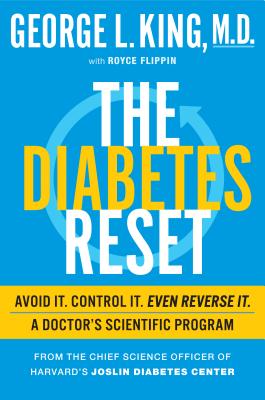 The Diabetes Reset (Hardcover)
Avoid It. Control It. Even Reverse It. A Doctor's Scientific Program
Workman Publishing Company, 9780761175926, 336pp.
Publication Date: January 13, 2015
* Individual store prices may vary.
Description
Imagine controlling—avoiding—reversing!—the "health hazard of the 21st century" (World Health Organization), the disease that afflicts nearly 26 million Americans and is an imminent threat to an additional 80 million adults and children. That's exactly the promise of The Diabetes Reset by Dr. George King, research director and chief science officer at Harvard's Joslin Diabetes Center, the world's largest and most respected diabetes research center, synonymous with revolutionizing the diagnosis, treatment, and prevention of diabetes.

Based on the most cutting-edge research—including the groundbreaking discovery of brown fat in adults and its role in burning calories and enhancing the effects of the body's own insulin—The Diabetes Reset translates the latest findings into a plan that will let readers avoid, control, and even reverse type 2 diabetes. The program begins with losing weight—and shows why losing only 5% of body weight makes a life-changing difference. It explains how a good's night sleep can significantly lower blood glucose levels (and why sleep deprivation works in reverse). It disentangles the carbohydrate confusion, reveals how to decrease the body's inflammatory response, and explains the importance of moderate exercise. There are eight strategies in all—if you implement only one, your type 2 diabetes will improve. Pursue all eight of them, and you can stop type 2 diabetes in its tracks. You can even reverse it—effectively resetting your body's glucose metabolism for a long, healthy life.
About the Author
George King, M.D., is research director and chief scientific officer at the Joslin Diabetes Center. One of the world's most sought-after speakers on diabetes and diabetes-related issues, Dr. King is on the road for roughly half of every year speaking to medical conferences, professional associations, and patient groups, including American Diabetes Association gatherings and National Institutes of Health workshops. He lives in Cambridge, Massachusetts.
Royce Flippin is a health and medical writer whose articles have appeared in The New Republic, Men's Journal, and numerous other publications.
Praise For The Diabetes Reset: Avoid It. Control It. Even Reverse It. A Doctor's Scientific Program…
"Up-to-date, evidence-based medical information along with encouragement and empowerment, optimism and opportunity." —Booklist

"A down-to-earth, holistic approach to obesity and diabetes through eight strategies, including a compelling case for the Rural Asian Diet, from a world-renowned scientist-physician. Dr. King's friendly style makes you feel that you are in his office. I recommend this book for anyone who wants to learn more about managing diabetes or prediabetes." —Edward A. Chow, MD, President of the San Francisco Health Commission, San Francisco Department of Public Health
 
"A clearly written book, with compelling advice on the prevention and control of type 2 diabetes that is backed by sound medical evidence." —Wilfred Y. Fujimoto, MD, Professor Emeritus of Medicine, University of Washington, and a pioneering researcher on diabetes among Asian Americans, Pacific Islanders and Hawaiian natives

"The Diabetes Reset takes a look at diabetes from a new perspective. It offers insight into the challenges facing patients, and a lot of practical suggestions about how to tackle them." —C. Ronald Kahn, MD, Past President, Joslin Diabetes Center; Mary K. Iacocca, Professor of Medicine, Harvard Medical School