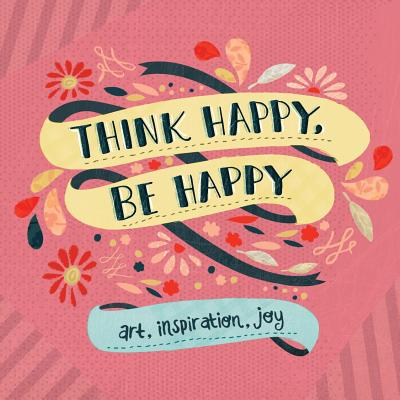 Think Happy, Be Happy
Art, Inspiration, Joy
Paperback

* Individual store prices may vary.
Description
The gift of art, the gift of inspiration, the gift of joy. This dynamic illustrated book is brimming over with encouragement and wisdom and delivered with a fresh, modern twist. Pairing quotes with original graphic art that brings the words to life, Think Happy, Be Happy is a gallery of beauty and cheer inspired by the letterpress and screenprint art that's hot on Etsy and pinned and re-pinned by Pinterest's millions of fans.

The artwork is by more than twenty popular illustrators and designers, who transform simple but smart mottoes—from the contemplative "Find beauty in rain" to the upbeat "I make my own sunshine!" to the empowering "Don't shush your inner voice. It's who you are" to the joyful "Live every day like it's your birthday"—into bold and visually dynamic statements. This book is a delightful pick-me-up that can be read over and over again and bring comfort and affirmation every time.

Paired randomly throughout is unexpected, complementary text—themed play-lists, top-ten lists, and simple recipes. Because what's better to lift the spirits than a Watermelon Mint Ice Pop?
Workman Publishing Company, 9780761177579, 400pp.
Publication Date: October 8, 2013
About the Author
Workman Publishing Company has been producing award-winning calendars, cookbooks, parenting guides, and children's titles, as well as gardening, humor, self-help, and business books, since 1968. From our What to Expect® pregnancy and parenting series and Page-A-Day® Calendars to the iconic 1,000 Places to See Before You Die® and Brain Quest® children's products, our wide range of high-quality non-fiction titles and products inspire, educate, and entertain readers around the globe.