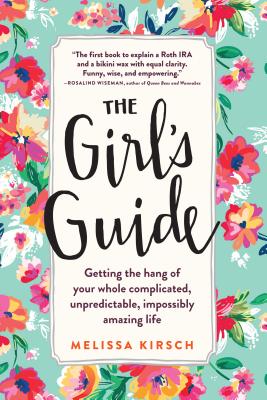 The Girl's Guide
Getting the hang of your whole complicated, unpredictable, impossibly amazing life
Paperback

* Individual store prices may vary.
Description
A colossal cheat sheet for your post-college years, answering all the needs of the modern woman—from mastering money to placating overly anxious parents, from social media etiquette to the pleasure and pain of dating (and why it's not a cliché to love yourself first).

A perfect combination of tried-and-true advice and been-there tips, it's a one-stop resource that includes how to clean up your digital reputation, info on finding an apartment you can afford and actually want to live in, and why you should exercise the delicate art of defriending. Plus the fundamentals, from health (mental and physical) to spirituality to ethics to fashion, all delivered in Melissa Kirsch's fresh, personal, funny voice—as if your best friend were giving you the best and smartest advice in the world. 

Praise For The Girl's Guide: Getting the hang of your whole complicated, unpredictable, impossibly amazing life…
Praise for The Girl's Guide to Absolutely Everything


From Publishers Weekly
Starred Review. As a former senior producer at Oxygen Media and author of their "Ask Princess" advice column, Kirsch specializes in helping young women face the challenges of life in the real world. Here she's compiled information and advice in a common-sensible, funny and easy-to-read primer on all aspects of life for women in their 20s and 30s, deftly organized into 10 chapters covering health, work, money, manners, friends, love, family, spirit, home and fashion. Nothing is off limits, from "Home Ec for Modern Times" (including the rationale behind nude tub-scrubbing) to romance and its subsidiaries (such as "Non-Goal-Oriented Sex"). Kirsch is fond of using lists and charts to compliment the text, such as her handy stain remover chart and her Woman's Sexual Bill of Rights, and she includes a liberal sprinkling of funny and insightful quotes from regular gals. Especially helpful are her chapter on "The Company You Keep," with advice on rooming, traveling and growing with friends, and her thorough look at money and finances. While some of this information is old hat, it's delivered in a welcoming and comprehensive package, making it a standout in a crowded field as well as an ideal gift. 

From Library Journal
Starred Review. One would be hard-pressed to come up with a more accurate title for this comprehensive guide. Kirsch, a former producer at Oxygen Media, provides a wealth of advice for women in their twenties and thirties on everything from body image and friendship to first jobs and money. For each subject, she includes pertinent articles and diagrams as well as relevant web sites and phone numbers. She shares handy tips on how to choose a credit card, whom and how much to tip, and how to get criticized without bursting into tears. Her well-designed book is pleasurable to read and encourages healthy, responsible behavior. Highly recommended for academic and public libraries.


"A veritable bible."
—Newsday

"This is the first book to explain such critical subjects as a Roth IRA and a bikini wax with equal clarity. It's funny, irreverent, wise, thorough, and empowering. Women of any age will find this book incredibly helpful. It's like having a guru girlfriend who won't make you feel dumb for asking the questions you don't want to admit you don't know…I laughed out loud. And couldn't agree more."
—Rosalind Wiseman, author of Queen Bees and Wannabes 

 "Everything you wish your big sister or best friend had told you about navigating the real world."
—Jennifer Weiner, author of All Fall Down
 
Workman Publishing Company, 9780761180128, 464pp.
Publication Date: April 7, 2015
About the Author
MELISSA KIRSCH has written for New York magazine, National Geographic Traveler, Nerve, and Good Housekeeping, and has been consulted as an expert for Glamour, Jezebel, and Cosmopolitan. She is an editor in New York City.