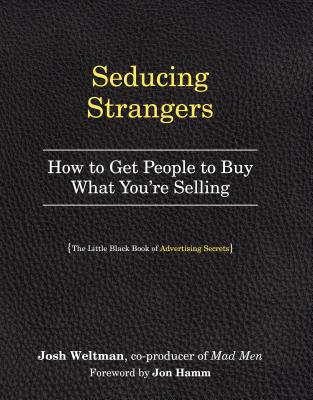 Seducing Strangers
How to Get People to Buy What You're Selling (The Little Black Book of Advertising Secrets)
Paperback

* Individual store prices may vary.
Other Editions of This Title:
Prebound (4/7/2015)
Hardcover (4/7/2015)
Description
How to get someone, somewhere, to do something.
 
The job is using words, pictures, stories, and music to seduce strangers. In the industrial, mass-media, consumer economy of the past, the job was called advertising, and "Mad Men" did it. In today's service-based, social media-focused, information economy, the job is called life, and everyone does it.
 Here's how you can do it. And do it better.
Praise For Seducing Strangers: How to Get People to Buy What You're Selling (The Little Black Book of Advertising Secrets)…
"Mad Men ad man Josh Weltman knows how to sell." -- Fast Company co.CREATE

"Seducing Strangers is packed with surprisingly fascinating case studies from the advertising world." -- EntertainmentWeekly.com

Mad Men co-producer Josh Weltman, meticulously executes many of the ads we've seen Don Draper and Peggy Olson pitch….[His] book Seducing Strangers: How to Get People to Buy What You're Selling, which includes a foreword by Jon Hamm, imparts his wisdom from two-plus decades in the industry." -- Vulture.com

Advertising, Joshua Weltman argues, is a toolbox, not a tool, and used right it makes people happy. Seducing Strangers shows you how.

"People often ask me questions, or ask my opinions, on or about the world of advertising. My stock response is 'You know I play a fictional advertising executive, right?' That's usually used to cover the ignorance or stupidity of whatever I am about to say next. In the future I will simply refer them to Josh Weltman." —from the Foreword by Jon Hamm
Workman Publishing Company, 9780761181750, 192pp.
Publication Date: April 7, 2015
About the Author
Josh Weltman is the advertising consultant and a co-producer on the hit show Mad Men. A creative director for more than 25 years, he's worked on advertising and marketing campaigns for both global brands and boutique clients. He lives with his family in Los Angeles, California.