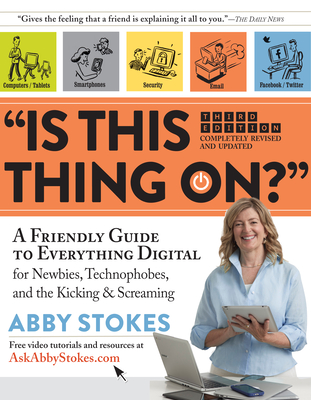 "Is This Thing On?" (Paperback)
A Friendly Guide to Everything Digital for Newbies, Technophobes, and the Kicking & Screaming
Workman Publishing Company, 9780761183808, 496pp.
Publication Date: March 24, 2015
Other Editions of This Title:
Paperback (1/3/2012)
Paperback (8/22/2008)
Hardcover (3/24/2015)
* Individual store prices may vary.
Description
Like a personal trainer for the digital age, Abby Stokes is the hand-holding, motivating expert that newbies—specifically older newbies—turn to when they want to become digitally literate. And her book, Is This Thing On?, is as smart, comprehensive, reassuring, and jargon-free as she is: the epitome of user-friendly. And it is now completely revised and updated to keep pace with the fast-changing digital landscape, covering tablets, apps, video streaming, social media, and much more.

With the skill and assurance of a teacher who for over 20 years has personally taught computer skills to thousands of seniors and technophobes, Stokes covers it all: How to choose, buy, and start using the computer or tablet that's just right for you, plus how to set everything up for maximum comfort and safety. How to connect to the Internet, sign up for email, understand and use search engines, and get started with essential skills like word processing and text messaging. How to choose, buy, and start using a smartphone. How to take and share digital photographs and videos. How to discover online communities and participate in social media like Facebook, Instagram, Pinterest, Twitter, YouTube, and blogs. How to explore the world of apps, online music, streaming movies, and ebooks. And, importantly, online security— including what to do when things go wrong. Appendices include both Apple and PC keyboard shortcuts and 200 recommended websites and 100 apps; there are FAQs at the end of each chapter and tips and tricks throughout. An all-new companion website—AskAbbyStokes.com—will include video tutorials explaining the latest technologies.
About the Author
Abby Stokes has taken on the role of the Johnny Appleseed of technology, crisscrossing the country to help "digital immigrants" conquer their fear. She has visited more than 20 states, 120 public libraries, and 100 senior centers/computer clubs, and has hosted webinars across the country. She has taught courses at both Cooper Union and NYU's School of Lifelong Learning, and has also taught private and corporate clients. Ms. Stokes divides her time between New York City and Niantic, Connecticut.