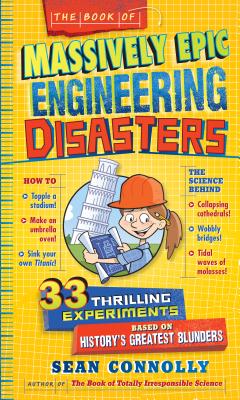 The Book of Massively Epic Engineering Disasters
33 Thrilling Experiments Based on History's Greatest Blunders (Irresponsible Science)
Hardcover

* Individual store prices may vary.
Description
It's hands-on science with a capital "E"—for engineering.

Beginning with the toppling of the Colossus of Rhodes, one of the seven wonders of the ancient world, to the destructive, laserlike sunbeams bouncing off London's infamous "Fryscraper" in 2013, here is an illustrated tour of the greatest engineering disasters in history, from the bestselling author of The Book of Totally Irresponsible Science.

Each engineering disaster includes a simple, exciting experiment or two using everyday household items to explain the underlying science and put learning into action. Understand the Titanic's demise by sinking an ice-cube-tray ocean liner in the bathtub. Stomp on a tube of toothpaste to demonstrate what happens to non-Newtonian fluids under pressure—and how a ruptured tank sent a tsunami of molasses through the streets of Boston in 1919.

From why the Leaning Tower of Pisa leans to the fatal design flaw in the Sherman tank, here's a book of science at its most riveting.

 
Praise For The Book of Massively Epic Engineering Disasters: 33 Thrilling Experiments Based on History's Greatest Blunders (Irresponsible Science)…
"A new collection from an old hand at designing intriguing STEM activities that will entertain as well as enlighten."—Kirkus Reviews

"With ever-advancing technology present in the lives of readers, this text provides the chance for aspiring architects, engineers, and other problem solvers to understand past mistakes before building future wonders." —School Library Journal


 
Workman Publishing Company, 9780761183945, 256pp.
Publication Date: September 5, 2017
About the Author
Sean Connolly is the author of the Totally Irresponsible Science series and dozens of other books for both children and adults. A father of three, he is in an ideal position to explain the nuts and bolts of these experiments. He lives in England.