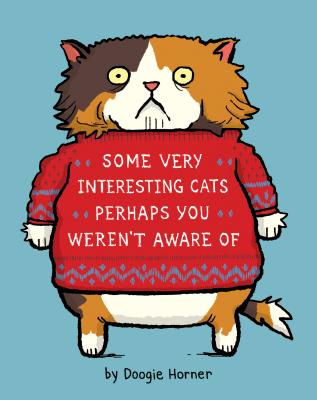 Some Very Interesting Cats Perhaps You Weren't Aware Of
Hardcover

* Individual store prices may vary.
Description
A completely original and funny new take on cats. Doogie Horner, a writer and illustrator, knows just what it is about cats that so obsesses and delights us—their impenetrable personalities, their self-contained quirkiness, the aura of mystery that makes it seem as if they're always up to something that they don't want us to know about. So he imagines their secret lives for us, in a way that takes the most surprising and whimsical turns.

With full-color illustrations and absurdly funny short stories, Some Very Interesting Cats Perhaps You Weren't Aware Of  is a gallery of 100 impossible cat characters. Like the Alien cat, Xort, who reports back to his planet: "Have trained my humans to feed and pet me. They suspect nothing." Or the Mountain Climber cat, Snowball, who is planning a perilous route up the North Curtain to Mt. Bookcase. Or Mystico, the Magician cat—no one could figure out how he sawed a dog in half. (The answer was simple: He didn't like dogs.) And Hjalmar, the Viking cat, whose motto is "Pillage. Tuna. Plunder. Nap."
 
Workman Publishing Company, 9780761184034, 208pp.
Publication Date: October 20, 2015
About the Author
Doogie Horner is an author, illustrator, and comedian. His previous books are 100 Ghosts: A Gallery of Harmless Haunts and Everything Explained Through Flowcharts, and his humor writing and illustration have appeared in Wired, Fast Company, Playboy, McSweeney's, The Believer, The London Times, and BoingBoing. He lives in New York City.