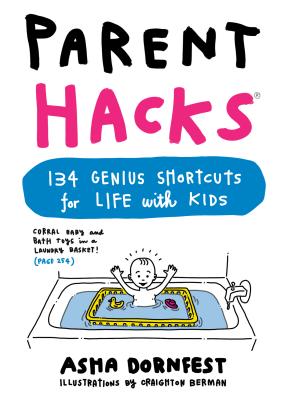 Parent Hacks (Paperback)
134 Genius Shortcuts for Life with Kids
Workman Publishing Company, 9780761184317, 272pp.
Publication Date: April 5, 2016
* Individual store prices may vary.
Description
"Just . . . genius."—Buzzfeed

Life with kids just got easier with these 134 ingenious hacks developed by parents just like you. Put the ketchup under the hot dog, minimizing the mess. Strap baby into a forward-facing carrier when you need to trim her fingernails—it frees your hands while controlling the squirming. Or stash a wallet in a disposable diaper at the beach—who would ever poke through what looks like a used Pamper?

All these hacks are easy to do, are boldly illustrated, and use everyday items in unexpected ways. And the range—from pregnancy and postpartum, through sleep, eating, bath time, travel, and more—covers all the most critical years when parents really need a little extra help.
 
About the Author
Asha Dornfest is the founder of ParentHacks.com and the coauthor of Minimalist Parenting. ParentHacks.com was named a "best parenting and family blog" by Real Simple, is a Daily Beast "Beast Best" award-winner, and is a three-time recipient of Babble's "#1 Most Useful" mom blog award.

 
Praise For Parent Hacks: 134 Genius Shortcuts for Life with Kids…
"Did you know that you can muffle a noisy door latch with a rubber band? Use Press'n Seal as a makeshift bib? Defeat glitter with a ball of play dough? Every parent will find solutions in [this]…incredibly helpful book." – Parents Magazine

"Just…genius." – Buzzfeed
 
"Parent Hacks is the book that will literally change parents' lives." – Cool Mom Picks
 
"Frugal, real advice—and often hilarious." – MommyPoppins

"This is the perfect kind of parenting book: one you don't need to read from cover-to-cover while you're juggling your kid(s), but which you can turn to whenever you're in need." – BoingBoing.com

"You'll definitely have some 'why didn't I think of that?' moments as you read this book." – GeekDad.com

"A clever assortment of time-saving shortcuts and creative tricks." –New York Journal of Books

"Genius parenting hacks." – CupofJo.com

"…a hilarious (and handy!) collection of illustrated tips that literally any parent can use." – The Stir.com

"Parent Hacks is so good that I may even have a few more kids." – Dave Pell, Nextdraft.com

"Parent Hacks is the book we all need to be given the moment we see two blue lines, a plus or whatever positive sign your pregnancy test of choice indicates." – Austin American Statesman

"This book is short and sweet but infinitely useful. Highly recommended. I also pledged to make the handy, adorably illustrated little volume my next go-to baby shower gift, because I found myself wishing I'd had it when my kids were little. " – Wichita Eagle
 
Coverage from NPR