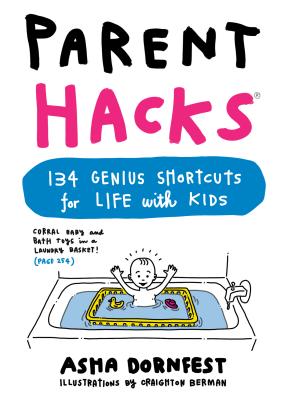 Parent Hacks (Paperback)
134 Genius Shortcuts for Life with Kids
Workman Publishing Company, 9780761184317, 272pp.
Publication Date: April 5, 2016
* Individual store prices may vary.
Description
Drawing from the award-winning website ParentHacks.com, here are 134 ingenious ideas for simplifying life with kids.

A parent hack can be as simple as putting the ketchup under the hot dog, minimizing the mess. Or strapping baby into a forward-facing carrier when you need to trim his fingernails—it frees your hands while controlling the squirming. Or stashing a wallet in a disposable diaper at the beach—who would ever poke through what looks like a used Pamper?

On every page, discover easy-to-do, boldly illustrated, unconventional solutions, arranged by category from Pregnancy & Postpartum through Sleep, Eating, Bath Time, Travel, and more.

 
About the Author
Asha Dornfest is the founder of ParentHacks.com and the coauthor of Minimalist Parenting. ParentHacks.com was named a "best parenting and family blog" by Real Simple, is a Daily Beast "Beast Best" award-winner, and is a three-time recipient of Babble's "#1 Most Useful" mom blog award.

 
Praise For Parent Hacks: 134 Genius Shortcuts for Life with Kids…
"Did you know that you can muffle a noisy door latch with a rubber band? Use Press'n Seal as a makeshift bib? Defeat glitter with a ball of play dough? Every parent will find solutions in [this]…incredibly helpful book." – Parents Magazine

"Just…genius." – Buzzfeed
 
"Parent Hacks is the book that will literally change parents' lives." – Cool Mom Picks
 
"Frugal, real advice—and often hilarious." – MommyPoppins

"This is the perfect kind of parenting book: one you don't need to read from cover-to-cover while you're juggling your kid(s), but which you can turn to whenever you're in need." – BoingBoing.com

"You'll definitely have some 'why didn't I think of that?' moments as you read this book." – GeekDad.com

"A clever assortment of time-saving shortcuts and creative tricks." –New York Journal of Books

"Genius parenting hacks." – CupofJo.com

"…a hilarious (and handy!) collection of illustrated tips that literally any parent can use." – The Stir.com

"Parent Hacks is so good that I may even have a few more kids." – Dave Pell, Nextdraft.com

"Parent Hacks is the book we all need to be given the moment we see two blue lines, a plus or whatever positive sign your pregnancy test of choice indicates." – Austin American Statesman

"This book is short and sweet but infinitely useful. Highly recommended. I also pledged to make the handy, adorably illustrated little volume my next go-to baby shower gift, because I found myself wishing I'd had it when my kids were little. " – Wichita Eagle
 
Coverage from NPR