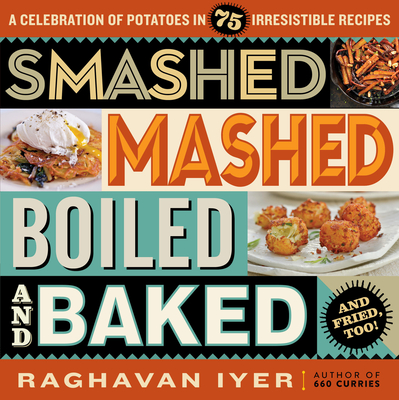 Smashed, Mashed, Boiled, and Baked--And Fried, Too! (Paperback)
A Celebration of Potatoes in 75 Irresistible Recipes
Workman Publishing, 9780761185475, 256pp.
Publication Date: November 15, 2016
* Individual store prices may vary.
Description
Who knew a potato could ever taste so good? Raghavan Iyer, that's who A master teacher and beloved, award-winning cookbook author, Raghavan pays tribute to his favorite ingredient in a continent-by-continent celebration of the amazing potato. Its recipes, inspired by a diversity of cuisines and accompanied by enticing full-color photographs, feature scrumptious starters, like Ecuadorean Llapingachos and Sweet Potato Samosas. Hearty mains: Canadian Lamb-Potato Tortiѐre, Moroccan Potato Stew with Saffron Biscuits, Potato Lasagna. Plus rich gratins, a boundary-defying Mojito Potato-Pomegranate Salad, luscious sauces and condiments, and even desserts, including a decadent Chocolate Sweet Potato Pound Cake. Includes a guide to potato varieties, uses, and storage, plus fascinating stories in potato history for the truly obsessed.
About the Author
Raghavan Iyer, an IACP Award-winning Teacher of the Year, is the author of 660 Curries, Indian Cooking Unfolded, Betty Crocker's Indian Home Cooking, and The Turmeric Trail: Recipes and Memories from an Indian Childhood. Born in Mumbai, Mr. Iyer lives with his family in Minneapolis, Minnesota.