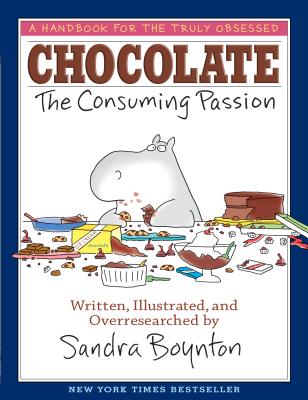 CHOCOLATE (Hardcover)
The Consuming Passion
Workman Publishing Company, 9780761185635, 112pp.
Publication Date: October 6, 2015
* Individual store prices may vary.
Description
Wait. Sandra Boynton wrote a book about CHOCOLATE? For grown-ups?

Oh YES! Boynton's beloved classic returns, updated and redrawn by her for a whole new generation of chocophiles. In addition to her extensive new research, Boynton also nobly sourced and consumed untold quantities of great chocolate, with no thought for her own personal safety.

Lavishly illustrated and filled with useful facts and cheerful misinformation, CHOCOLATE: The Consuming Passion is the absolute ideal gift for every true chocolate obsessive. Discover the many faces of chocolate—milk chocolate, dark chocolate, boxed chocolates, pretend chocolate, and the wild new frontier of small-batch craft chocolate. Learn about chocolate's complex effects on the body, the psyche, and the soul. Prepare select simple recipes, such as "Hippo Pot de Mousse." Learn how to grow your own chocolate, assuming you don't mind relocating to within 15º of the Equator. There's even a handy guide to saying "Excuse me, where is the nearest chocolate?" in eleven languages, including Klingon. (Nook-dock YOOCH dah-PULL?) Boldly go.
 
About the Author
Sandra Boynton is a popular American cartoonist, writer, and songwriter. Since 1974, Boynton has written and illustrated over fifty children's books and seven general audience books, including five New York Times bestsellers. More than 60 million of her books have been sold—"mostly to friends and family," she says. She has also written and produced five albums of award-winning children's music. Three of her albums have been certified Gold, and Philadelphia Chickens, nominated for a Grammy, has gone Platinum. She lives with her family on a farm in New England.


 
Praise For CHOCOLATE: The Consuming Passion…
"Chocophiles -- and others -- will find practical information amid the humor." —The Sacramento Bee

"The most successful of her several books for grownups … defies genre, but on first blush one might be tempted to call it an illustrated natural, culinary, and industrial history of chocolate. What is striking about 'Chocolate,' though, is the way its seemingly unvarnished earnestness is coated in a generous robe of sardonic tastemaking."
—Ian Bogost, The New Yorker
"Sandra Boynton deserves mention alongside more frequently acclaimed masters of cross-generational entertainment, like Matt Groening and Jim Henson."
—Ian Bogost, The New Yorker