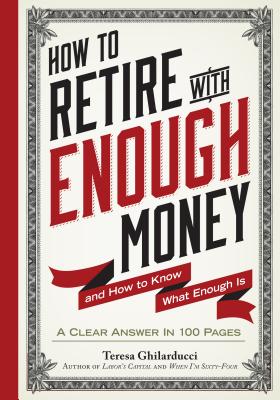 How to Retire with Enough Money
And How to Know What Enough Is
Hardcover

* Individual store prices may vary.
Description
Here is a single-sit read than can change the course of your retirement. Written by Dr. Teresa Ghilarducci, an economics professor, a retirement and savings specialist, and a trustee to two retiree health-care trusts worth over $54 billion, How to Retire with Enough Money cuts through the confusion, misinformation, and bad policy-making that keeps us spending or saving poorly.

It begins with acknowledging what a person or household actually needs to have saved—the rule of thumb is eight to ten times your annual salary before retirement—and how much to expect from Social Security. And then it delivers the basic principles that will make the money grow, including a dozen good ideas to get current expenses under control. Why to "get rid of your guy"—those for-fee (or hidden-fee) financial planners that suck up valuable assets. Why it's always better to pay off a loan or a mortgage.

There are no gimmicks, no magical thinking—just an easy-to-follow program that works.
 
Praise For How to Retire with Enough Money: And How to Know What Enough Is…
"Everyone who isn't independently wealthy should read this book, filled with understandable, actionable guidance for retirement." –Ash Williams, Executive Director & CIO, Florida State Board of Administration
 
"An authoritative voice, providing practical advice on how to navigate the challenge of planning for a secure retirement." –Thomas DiNapoli, New York State Comptroller
 
"Retirement security is achievable—if you read this book and act on it." –Marc Fandetti, Principal, Meketa Investment Group

"Ghilarducci uses humor, easy-to-understand calculations, and personas to showcase how readers from varying walks of life can make sustainable retirement savings choices." —Library Journal

 
Workman Publishing Company, 9780761186137, 144pp.
Publication Date: December 15, 2015
About the Author
Teresa Ghilarducci is the Bernard L. and Irene Schwartz Professor of Economics at the New School for Social Research. She has a Ph.D. in economics from the University of California at Berkeley, and is the author of When I'm 64: The Plot Against Pensions and the Plan to Save Them—and "Our Ridiculous Approach to Retirement," one of the most emailed recent New York Times articles. An expert on retirement, pensions, and personal savings, Dr. Ghilarducci has been featured in Time, U.S. News & World Report, The New York Times, The National Journal, Parade, Money, Kiplinger's, and BusinessWeek.
 
or
Not Currently Available for Direct Purchase