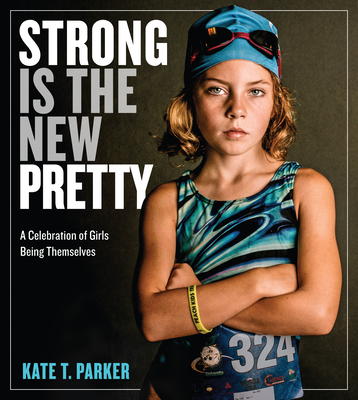 Strong Is the New Pretty
A Celebration of Girls Being Themselves
Paperback

* Individual store prices may vary.
Other Editions of This Title:
Hardcover (3/7/2017)
Description
Girls being fearless. Girls being silly. Girls being wild, stubborn, and proud. Girls whose faces are smeared with dirt and lit up with joy. So simple and yet so powerful, Strong Is the New Pretty celebrates, through more than 175 memorable photographs, the strength and spirit of girls being 100% themselves.

Real beauty isn't about being a certain size, acting a certain way, wearing the right clothes, or having your hair done (or even brushed). Real beauty is about being your authentic self and owning it. Kate T. Parker is a professional photographer who finds the real beauty in girls, capturing it for all the world to see in candid and arresting images.

A celebration, a catalog of spirit in words and smiles, an affirmation of the fact that it's what's inside you that counts, Strong Is the New Pretty conveys a powerful message for every girl, for every mother and father of a girl, for every coach and mentor and teacher, for everyone in the village that it takes to raise a strong and self-confident person.

 
Praise For Strong Is the New Pretty: A Celebration of Girls Being Themselves…
"[Strong is the New Pretty is] a book of images of young girls being athletic, being active, being strong, being proud talking about their hobbies, talking about what they aspire to be in their lives. And it just [makes] me think...I hope that we're able to give that over to the younger generation." —Kate Winslet, Los Angeles Times

"I'm so obsessed with Strong Is the New Pretty. The book has a little bit of everything. It's an amazing thing [that] my daughter and I have bonded over so hard, and she's looking at these girls and looking at what the messaging is. It's so well done. She wants to know the ages. I read the captions to her. She sleeps with it at night. And she is looking at girls who are talking about what they feel they can do in life. It's so well curated too. It has this beautiful look and feel to it. It's really the first thing in a while to kind of knock me off my feet." —Drew Barrymore, USMagazine.com

"A great book… I gave [it] to my daughters and watched as they pored over it." —Nicole Kidman, Vogue.com

​"Femtastic… A powerful book.​" —FamilyCircle Magazine

​"Strong Is The New Pretty is the definition of girl power.​" —Buzzfeed

"A lovely exploration filled with exquisite images of girls and quotes about what makes them strong, beautiful, and confident … stunning." —School Library Journal

"Positively moving and totally glorious." —Booklist

"This is an amazing celebration of the strength, confidence, and energy of girls and young women who are just beginning to understand their power in the world. Imagine how much more we can all accomplish when girls honor what their bodies can do and focus on their dreams rather than fixate on what they look like and obsess about their shape." —Ann Shoket, former editor in chief of Seventeen magazine and author of The Big Life

"Within the pages of Strong Is the New Pretty, we see girls as they naturally are and what they want and demand the world to see. They are inspiring, wise, and grounded in the certainty that they will take the world by storm." —Rosalind Wiseman, author of Queen Bees & Wannabes and the Owning Up curriculum
Workman Publishing Company, 9780761189138, 256pp.
Publication Date: March 7, 2017
About the Author
Kate T. Parker is a mother, wife, former collegiate soccer player, Ironman, and professional photographer who shoots both fine art projects and commercial work for clients across North America. Her Strong Is the New Pretty photo series has led to collaborations with brands like Athleta, Kellogg's, Oxygen, and Girls on the Run. The project has also inspired Kate to launch a philanthropic arm of Strong Is the New Pretty, partnering with organizations that invest in girls' health and education. When she's not photographing, she can be found coaching her daughters' soccer teams. She lives with her family in Atlanta, Georgia.