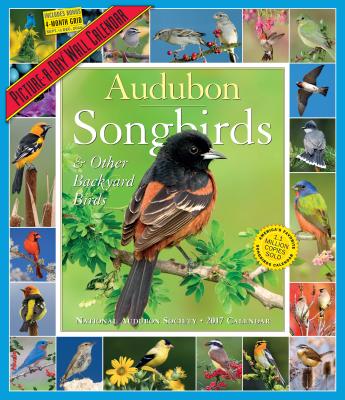 Audubon Songbirds & Other Backyard Birds Picture-A-Day Wall Calendar 2017
Calendar

* Individual store prices may vary.
Other Editions of This Title:
Calendar (8/15/2013)
Calendar (6/25/2015)
Calendar (7/15/2012)
Calendar (7/15/2011)
Calendar (7/1/2006)
Description
The essential gift for America's 51 million birders: a calendar that holds the promise of a daily sighting from Audubon, the organization synonymous with birds. Each month, AUDUBON SONGBIRDS & OTHER BACKYARD BIRDS features a large photograph at the top of the page, plus smaller images throughout the grid. A Red-breasted Nuthatch perched on a snow-covered branch. A Yellow Warbler sharing its sweet song. Plus the enchanting hues of a Painted Bunting, a finely detailed view of a Red-bellied Woodpecker, and a stunning Northern Cardinal—always a cheerful sight in the fall. Accompanying the full-color photographs is detailed text describing species characteristics, songs and calls, migration patterns, habitats, and more. It's a delightful tribute to the backyard songsters who bring their color and music to every day. 
Workman Publishing Company, 9780761190080
Publication Date: July 12, 2016
About the Author
Audubon's mission is to conserve and restore natural ecosystems, focusing on birds, other wildlife, and their habitats for the benefit of humanity and the earth's biological diversity.

Audubon's network of community-based nature centers and chapters, scientific and educational programs, and advocacy on behalf of areas sustaining important bird populations, engage millions of people of all ages and backgrounds in positive conservation experiences.
or
Not Currently Available for Direct Purchase