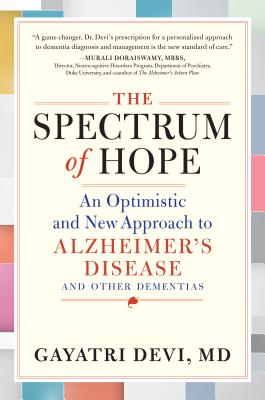 The Spectrum of Hope
An Optimistic and New Approach to Alzheimer's Disease and Other Dementias
Hardcover

* Individual store prices may vary.
Other Editions of This Title:
MP3 CD (11/14/2017)
Compact Disc (11/14/2017)
MP3 CD (11/14/2017)
Compact Disc (11/14/2017)
Library Binding, Large Print (1/17/2018)
Description
Imagine finding a glimmer of good news in a diagnosis of Alzheimer's.

And imagine how that would change the outlook of the 5 million Americans who suffer from Alzheimer's disease and other dementias, not to mention their families, loved ones, and caretakers. A neurologist who's been specializing in dementia and memory loss for more than 20 years, Dr. Gayatri Devi rewrites the story of Alzheimer's by defining it as a spectrum disorder—like autism, Alzheimer's is a disease that affects different people differently. She encourages people who are worried about memory impairment to seek a diagnosis, because early treatment will enable doctors and caregivers to manage the disease more effectively through drugs and other therapies.

Told through the stories of Dr. Devi's patients, The Spectrum of Hope humanizes the science, and offers equal parts practical advice and wisdom with skillful ease, along with real hope. Here are chapters on how to maintain independence and dignity; how to fight depression, anxiety, and apathy; how to communicate effectively with a person suffering from dementia. Plus chapters on sexuality, genetics, going public with the diagnosis, even putting together a bucket list—because through her practice, Dr. Devi knows that the majority of Alzheimer's patients continue to live and work in their communities. They babysit their grandkids, drive to the store (or own the store), serve their clients, or otherwise live fulfilling lives. That's news that 5 million people are waiting to hear.

 
Praise For The Spectrum of Hope: An Optimistic and New Approach to Alzheimer's Disease and Other Dementias…
"Captivating, educational, deeply perceptive about human nature—and as calming as a session with a loving, reassuring therapist. Devi is a wonderful, truthful storyteller. . . full of natural understanding and empathy. A very important book that will be helpful to millions of readers who fear this Thing in their lives."
—David Small, author of Stitches

"Tremendously moving. Shows a deep sympathy for both the patients and for their caregivers . . . Several passages moved me to tears. As a fiction writer, I'm in awe of Devi's ability to create a sense of real people, their goals, their concerns, their suffering."
—Lauren Belfer, New York Times bestselling author of And After the Fire, recipient of the National Jewish Book Award

"Gayatri Devi's compassionate and insightful perspective will inform and empower the many patients and their families suffering from Alzheimer's disease." —Gary Small, MD, Director, UCLA Longevity Center, and coauthor of The Alzheimer's Prevention Program

"In this time when Alzheimer's is as feared as cancer, Dr. Devi brings us realism and relief by explaining why it is a spectrum disease, as different as the part of the brain it affects, and by sharing the stories of people who lead unique, rewarding lives even after diagnosis. Since fear is lethal in itself, The Spectrum of Hope is good medicine."—Gloria Steinem

"One of the most valuable ways to support caregivers is with anecdotes from others who through trial and error have found ways to solve problems. Dr. Devi reconstitutes that experience—a terrific addition to the library for the caregiver!"—Sam Gandy, MD, PhD, Professor of Neurology and Psychiatry, Mount Sinai Chair in Alzheimer's Disease Research

"The Spectrum of Hope not only is a valuable resource for anyone receiving (or caring for someone with) a dementia diagnosis but should also be read by doctors for its lessons on how to imaginatively and sympathetically think about patients."—Francine Prose

"This book is a game changer. Dr. Devi's prescription for a personalized approach to dementia diagnosis and management is the new standard of care." —Murali Doraiswamy, MBBS, Director, Neurocognitive Disorders Program, Department of Psychiatry, Duke University, and coauthor of The Alzheimer's Action Plan
 
Workman Publishing Company, 9780761193098, 256pp.
Publication Date: October 31, 2017
About the Author
Gayatri Devi, MD, MS, FACP, FAAN, is an attending physician at Lenox Hill Hospital/Northwell Health and a Clinical Professor of Neurology at Downstate Medical Center. She is a board certified neurologist, with additional board certifications in Pain Medicine, Psychiatry, and Behavioral Neurology, and she served on the faculty of New York University's School of Medicine as Clinical Associate Professor of Neurology and Psychiatry until 2015. She is the author of over 50 publications in peer-reviewed journals on the topic of memory loss, as well as the books Estrogen, Memory and Menopause (Alphasigma Press, 2000), What Your Doctor May Not Tell You About Alzheimer's Disease (Time Warner Books, 2004), and A Calm Brain (Dutton, 2012). She lives and practices in New York City.