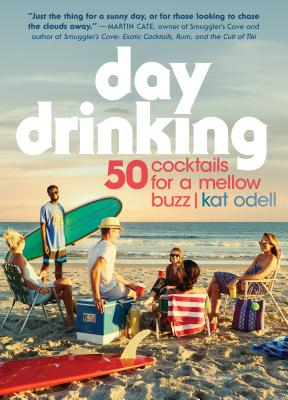 Day Drinking
50 Cocktails for a Mellow Buzz
Paperback

* Individual store prices may vary.
Description
The perfect way to spend an afternoon!

When the occasion calls for a drink, but not getting drunk, mix up a batch of day drinks - creative, low-alcohol cocktails that are festive, delicious, and easy on the booze. Using beer, wine, cider, sake, sherry, and vermouth, plus a variety of amari and other liqueurs, here are 50 light drinks for hot days, warm drinks for cool days, and an abundance of classic - and reimagined - spritzers, sangrias, micheladas, and so much more.
Praise For Day Drinking: 50 Cocktails for a Mellow Buzz…
​"The book is notable not only for its wide array of cocktails but for the fact that all the recipes actually go light on the alcohol content, so each really is perfect for enjoying for hours on end." —InStyle

"Packed with recipes we'll want to mix all summer long." —Liquor.com

"This fun and easygoing cocktail book serves up an intriguing mixture of unique and classic low-alcohol cocktails for anyone to enjoy at any time of day." —Booklist  

"Americans are finally catching on to what Italians have long known — that sipping low-alcohol cocktails, like aperitifs with soda, are the best way to imbibe on summer days. Kat Odell's Day Drinking is filled with low-lift formulas that enable a sustained, mellow buzz, from (late) morning to night." —Gear Patrol

"An extremely fun look at cocktails low in alcohol which tend to be ideal for brunch, lunch, and all weekend long." —Eater

"With a laid-back vibe, this is a solid collection for party hosts seeking some unusual and trendy cocktails." —Library Journal

"This finely honed collection of fabulously light and lively libations reminds you of the spirituous delights to be had while the sun is still at its apex. Collected from some of the best bartenders in America, these are recipes you can trust will both quench and inspire, because simply no one drinks more during the day than a bartender on their day off. Just the thing for a sunny day, or for those looking to chase the clouds away." —Martin Cate, owner of Smuggler's Cove and author of Smuggler's Cove: Exotic Cocktails, Rum and the Cult of Tiki
Workman Publishing Company, 9780761193203, 240pp.
Publication Date: May 16, 2017
About the Author
Kat Odell is a food journalist and the entrepreneur behind the plant-based food and drink brand Unicorn Foods. Odell was the editor of Eater L.A. for five years and the editor of Eater Drinks for the last two years. She has been published in Vogue, New York Times T Magazine, Food & Wine, Condé Nast Traveler, and Bon Appétit, among others. She has also made appearances as a judge and expert at a variety of food-related events, and her first book, Day Drinking, came out in spring 2017. Kate Odell and Unicorn Food can be found at @kat_odell and @unicornfoods.