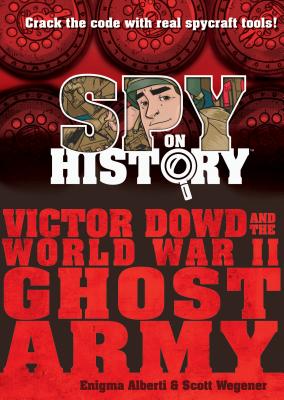 Spy on History (Hardcover)
Victor Dowd and the World War II Ghost Army
Workman Publishing, 9780761193265, 96pp.
Publication Date: January 23, 2018
* Individual store prices may vary.
Description
Your mission: Find Victor Dowd's missing sketchbook. And discover one of the most unusual stories of World War II.

Meet the 603rd Camouflage Engineers, better known as the Ghost Army. This group of artists and sound engineers were trained to deceive the Germans in World War II with everything from fake tanks to loudspeakers broadcasting the sound of marching troops. And meet Victor Dowd, a real-life sergeant who with his fellow Ghost Army troops fought his way from Normandy, through France, and eventually across the Rhine.

Second in the Spy on History series, it's a compelling story of a little-known chapter from the war--and a mystery to solve. Using spycraft materials included in a sealed envelope, readers will discover and unravel the clues embedded in the book's text and illustrations, and uncover the mystery of Victor Dowd's missing sketchbook.



About the Author
Enigma Alberti is the nom de plume of a group of successful children's book authors whose first book was Spy on History: Mary Bowser and the Civil War Spy Ring. Scott Wegener is a comic book artist and co-creator of Atomic Robo.