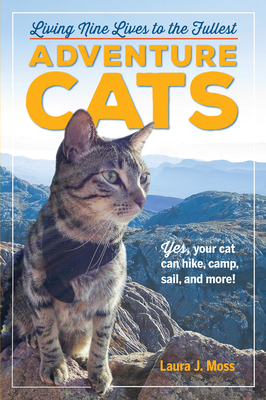 Adventure Cats
Living Nine Lives to the Fullest
Paperback

* Individual store prices may vary.
Description
Just when you thought you knew all there was to know about cats comes the ultimate—and unexpected—guide to taking your cat into the wild. Here are cats walking on a leash. Cats hiking on a leash. Cats tramping through snow. Cats camping. Cats kayaking, canoeing, even surfing—yes, cats who love water.

When animal writer and active hiker Laura Moss couldn't find an online resource for hitting the trail with her cat, she created one. AdventureCats.org took off like wildfire, with attention from Wired, the Huffington Post, Outside magazine, BuzzFeed, and much more. Now, the book Adventure Cats—a collection of jaw-dropping photographs, inspiring stories of real-life cats, and all the how-to a cat owner needs—will take readers and their cats well beyond the backyard. Learn how to leash-train a cat. What to do if you encounter wildlife on the trail. Plus, winter safety tips, and how to bring a little bit of the outdoors to an indoor cat.

The stories themselves are catnip for animal lovers, from Nanakuli, the one-eyed cat who hangs ten; to Georgie, a four-year-old gray tabby who lives on a sailboat; to Quandary, who not only insists on hiking with her family but also teaches them a valuable lesson: When you follow your cat's natural tendency to wander, you experience the outdoors at a slower, richer pace. This book will delight every cat person, regardless of whether their pet is inclined to adventure. (Take the quiz at the beginning of the book to find out!)

 
Praise For Adventure Cats: Living Nine Lives to the Fullest…
"An excellent training guide for any level of outdoor fun." — Library Journal

"Simply the most extraordinary book about cats that I have read in decades." —Frank McMillan, Director of Animal Well-Being Studies at Best Friends Animal Society
Workman Publishing Company, 9780761193562, 224pp.
Publication Date: May 16, 2017
About the Author
Laura J. Moss is the cofounder of AdventureCats.org—the first and only online resource for information on safely exploring the great outdoors with your feline friend—which, with an audience of 150,000 monthly visitors (and growing) and 63,000 Instagram followers, has become a sensation since it launched in October 2015, garnering attention from Wired, the Huffington Post, Good magazine, Outside magazine, BuzzFeed,Your Cat magazine, Mother Nature Network, MSN, Hello Giggles, Bustle, Distractify, AOL, CatChannel, iHeartCats, Petcha, the Guardian, and the Daily Mail.  AdventureCats.org has partnered with Purina to co-host a cat-hiking media event in Central Park in connection with National Adventure with Your Cat Day (June 15). Laura, in addition to being a mom to three rescue animals, is also a journalist whose work has appeared on CNN, the Huffington Post, Forbes, Yahoo, and Best Friends magazine. She spent six years as a senior editor for the Mother Nature Network, the world's most visited sustainable-living news site, where she primarily wrote about pets and animals—but mostly cats. She lives in Atlanta, GA.
or
Not Currently Available for Direct Purchase