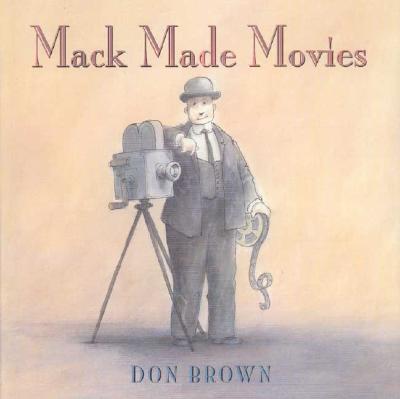 Mack Made Movies (Hardcover)
Roaring Brook Press, 9780761315384, 32pp.
Publication Date: July 14, 2005
* Individual store prices may vary.
or
Not Currently Available for Direct Purchase
Description
Mack Sennett invented the Keystone Kops, filmed the first pie-in-the-face skit, and introduced Charlie Chaplin to the movies. Here Don Brown tells the story of this American movie genius, from his beginnings as a Vaudeville actor to his triumph as the "King of Comedy"
About the Author
Don Brown is the author and illustrator of many acclaimed picture book biographies, including "Across a Dark and Wild Sea "and" Kid Blink Beats the World. "He lives in Merrick, New York.
Praise For Mack Made Movies…
Booklist Starred Review Using his inimitable picture-book-biography style, Brown turns a camera's eye on film pioneer Mack Sennett. The opening line sets the stage for this witty, fascinating profile of the King of Comedy: "In 1900, twenty-year-old Mack Sennett was a horse's rear end." It was "a silly role in a foolish skit on a shabby Manhattan stage, but it was his stage debut and Mack dreamed of being a show business star." In concise, brilliantly understated text, Brown recounts how Sennett broke into the new entertainment business, how he applied slapstick techniques from Vaudeville to the movies, how his Keystone Kops became the hit of silent pictures, and how he introduced Charlie Chaplin to the world. Especially fine in conveying facial expression, Brown's spare, fluid sketches, softly washed in sepia and butterscotch tones, cunningly capture the look of the times. A tiny sketch of a dog dancing appears in the lower right-hand corner of each spread, forming a miniature flipbook, and boxed quotes spliced into the scenes add bits of Sennett's droll personality. A one-page author's note provides a wide-angle view of Sennett, followed by a seven-book bibliography of adult books. From its alliterative title and a narrative as precise as comic timing, to a cinematic beginning that spotlights Sennett donning the horse suit, this is like watching a pie-in-the-face routine; it simply smacks with delight. Ingeniously staged and picture perfect, it's Brown's best book yet. Publishers Weekly Starred Review With the clipped, staccato delivery of a vaudeville act, Brown's breezy narrative unspools the biography of Mack Sennett, who started out as the hindquarters of a horse and wound up the head of a major Hollywood studio. Born in Canada in 1880, Mack appeared onstage at the age of 20 in a two-person costume as "a horse's rear end. It was just a silly role in a foolish skit on a shabby Manhattan stage, but it was his stage debut and Mack dreamed of being a show business star." In search of greater acclaim, Mack went on to perform slapstick comedy in various cities but was often booed off the stage. When films grew in popularity, Mack learned the craft of moviemaking and headed to California, where he founded a studio and brought his slapstick skills to the screen: "Actors dangled from flagpoles, spilled down stairwells, floundered in floods." Sepia-toned illustrations composed like film stills demonstrate the examples and form a logical progression to Mack's creation of the Keystone Kops and his hiring of a little-known English comic named Charlie Chaplin. Sprinkling his narrative with quotations from Mack's autobiography (conveyed in thought balloons that mimic the silent screen), the author provides further insight into the personality of this creative, fearless fellow. Brown follows up a brief explanation of how nickelodeons operated with a flip book formed from the images of a tiny dog dancing in the lower right-hand corner of the pages. Readers will give this filmmaker-and Brown-well-deserved applause. School Library Journal The creator of Uncommon Traveler: Mary Kingsley in Africa (Houghton, 2000) brings young readers a new treat-a picture-book biography of the moviemaker who made the Keystone Kops, Fatty Arbuckle, and Charlie Chaplin household names. Brown begins Mack's story on the burlesque stage, with his subject in costume. "In 1900, twenty-year-old Mack Sennett was a horse's rear end." Despite a disappointing career, Mack continued trying various slapstick routines to little avail or acclaim. In 1909, he landed a job with a movie company, and eventually persuaded a couple of others to help him produce slapstick comedies. The result was Keystone Pictures. Brown illustrates the various gags Mack first brought to audiences, from slipping on banana peels to throwing a pie into someone's face. The cartoon pen-and-ink and watercolor illustrations are done in subdued tones that give the book the feel of an old movie. The spreads are full of energy, moving across the page or spotlighting a specific gag. Occasionally, word bubbles are added to the drawings as Mack adds his own comments to the narrative. Brown gives readers just enough detail without making his story too long, supplementing the text with biographical comments and a bibliography in his author's note. For an added bonus, a small dog drawn in the right bottom corner of each spread dances when readers flip the pages. This is a thoroughly enjoyable and accessible introduction to the life of the "King of Comedy" and to the history of early moviemaking in America.
Advertisement