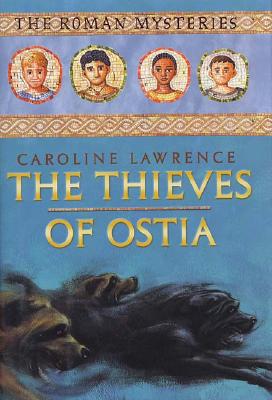 The Thieves of Ostia: The Roman Mysteries, Book I (Hardcover)
The Roman Mysteries, Book I
Roaring Brook Press, 9780761315827, 160pp.
Publication Date: May 1, 2002
* Individual store prices may vary.
or
Not Currently Available for Direct Purchase
Description
It is A.D. 79, and Flavia Gemina, daughter of a successful Roman sea captain, is about to celebrate her birthday. Then the dogs in her neighborhood start dying mysteriously, and there are rumors of burglary in the houses on Flavia's street. Set in the graveyards, houses, and alleyways of an ancient Roman city, here's the first in a series of fast-paced, informative, and satisfying mysteries.
About the Author
Caroline Lawrence is the author of seven books in the popular "Roman Mysteries" series. She lives in London, England.
Praise For The Thieves of Ostia: The Roman Mysteries, Book I…
Booklist Starred Review Lawrence expertly puts her young characters into their first-century C.E. context without making them seem too alien, and she convincingly develops their friendship. . . The fast-paced story, [which] has several gory incidents, along with pulse-pounding chase scenes, risky behavior, vivid descriptions (a menacing slave dealer "had one blind eye, a horrible milky orb that sat in its socket like a peeled egg"), hidden treasure, and, best of all, plausible clues that ultimately lead Flavia to the real culprit. Kirkus Reviews A fast-paced, crackling good mystery is set in "the tenth year of the Emperor Vespasian. . . . The children use logic, deduction, reasoning, and imagination to solve the crime, and the multicultural cast stretches, but does not shatter, credulity. Sequels are promised, and young mystery-lovers will be eager for the next. School Library Journal Starred Review This story takes place in the Roman port city of Ostia in the year A.D. 79. Flavia Gemina, daughter of a sea captain, is an accomplished amateur detective. Her companions include her neighbor, Jonathan; Lupus, a young beggar; and Nubia, an African slave about her age. When Jonathan's dog is beheaded and other canines are slain, Flavia and her friends set out to find the killer. Running from slave traders and wild dogs are only some of the dangers that they encounter. The book is fast-paced, but another strength is its description of Roman life. The author provides a glimpse at the various classes that make up society, and through the lives of the characters, readers learn about the attitudes, beliefs, and customs of the period. The treatment of slaves and the confusion about Christians are just some of the facts that are included. Vivid descriptions of architecture, economy, and politics lend an authentic note. The information is skillfully woven into the story, providing details that heighten readers' interest. An enjoyable mystery, and more. Publishers Weekly In this atmospheric debut novel, the first installment of a planned series, readers are whisked to the first century A.D. to help girl detective Flavia Gemina solve a brutal crime in the Roman port city of Ostia. When the guard dog belonging to Flavia's secretly Christian neighbors is slaughtered, Flavia sets out to find clues. She is accompanied by four trusty companions: Jonathan and Miriam, the Christian children; Nubia, a slave girl whom Flavia has recently acquired with her birthday money (with the purpose of emancipating her); and Lupus, a mute beggar boy. Many adventures later a pack of wild dogs chases them, they narrowly escape malicious slave traders and discover that their chief suspect has committed suicide by jumping from a lighthouse the children catch the culprit. Those looking for thrill-a-minute entertainment will find their fill of near-catastrophic events here, but the violence may be hard for some readers to stomach. Red herrings emerge too conspicuously and dialogue is sometimes stilted. Nonetheless, this historical mystery offers an intriguing glimpse into the customs, attitudes and class systems of the Roman empire.
Advertisement