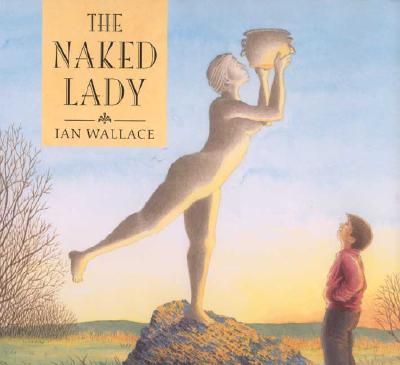 The Naked Lady (Hardcover)
Roaring Brook Press, 9780761315964, 32pp.
Publication Date: October 1, 2002
* Individual store prices may vary.
or
Not Currently Available for Direct Purchase
Description
Ian Wallace is one of Canada's most honored picture book artists. His recent work includes Boy of the Deeps, Duncan's Way, and The True Story of Trapper Jack's Left Big Toe. He lives in Toronto.
Praise For The Naked Lady…
Publishers Weekly Starred Review Wallace traces the beginnings of his own career path in this story of a sculptor who moves into the farm next door and inspires a boy to become an artist, dedicated to Wallace's own first art teacher. When young Tom carries over one of his mother's homemade raspberry pies to welcome Pieter, their new neighbor, the boy is flabbergasted to find a statue of a naked lady in Pieter's field. "She's not naked," the sculptor tells him. "She's nude." And thus begins a friendship between the lonely widower (whose deceased wife served as the model for the statue) and the boy who eventually becomes his pupil ("Pieter had lit a fire inside me. I wanted to be an artist, too"). The clean lines and uncluttered compositions of the watercolors reflect the directness and economy of the prose. Spare vistas and soft, muted colors offer up a nostalgic view of country life and give ample breathing room to the sculptures themselves-an eclectic mix of whimsical, larger-than-life animals and vegetables that sprout up all over Pieter's fields ("There won't be a more awesome crop anywhere in the county this year," says Tom) as well as, of course, the eponymous nude. A heartfelt tribute to the important role of mentors in any artist's life. Kirkus Reviews This quietly reminiscent autobiographical story of the author-illustrator's early inspiration to become an artist is dedicated to his first art teacher. . . . These memories are aptly illustrated in soft colors that evoke the bucolic setting: warm yellow sun, golden hay, pale blue sky, gray marble and barn siding, and faded green grass and leaves suit the nostalgic tone of the text perfectly. This haunting story, beautifully written and illustrated, will be of interest primarily to those interested in exploring art and the sources of inspirations for those who love to create it. Booklist Young listeners . . . will discover that the picture book, written in first person by one of Canada's leading illustrators, doubles as both a memoir and a moving tribute to Wallace's own first art teacher. The full-page pictures are lovely to contemplate; their soft colors and gentle humor evoke an experience of personal epiphany that also offers universal meaning. School Library Journal An inspiring story of an artist and a young farm boy. When a lonely sculptor moves onto the neighboring farm, young Tom Sims offers him a welcome pie. His surprise encounter with a nude statue ends with a smashed pie and a lasting relationship. Pieter Doef opens the boy's eyes to natural details and beauty that he'd never noticed. Those lessons shine through in the watercolor illustrations. . . . Descriptive details in the text and illustrations show a fond appreciation for the story's rural setting. A story's that's appealing and enriching.
Advertisement