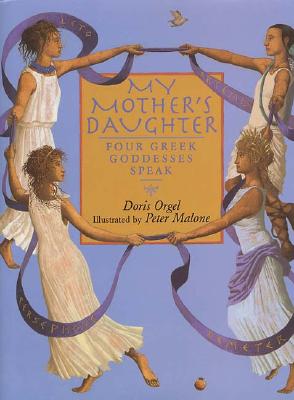 My Mothers' Daughter (Hardcover)
Roaring Brook Press, 9780761316930, 128pp.
Publication Date: March 1, 2003
* Individual store prices may vary.
or
Not Currently Available for Direct Purchase
Description
Leto, Artemis, Demeter, Persephone: Four goddesses, two mothers and their daughters. Here are their stories, told in the first person with grace and eloquence by Doris Orgel, who has often dealt with classical subjects in her many distinctive books for young people. An accessible text and handsome illustrations by Peter Malone make this a beautiful, as well as significant, book.
About the Author
Doris Orgel's many books for young readers include W"e Goddesses, The Princess and the God, and The Bremen Town Musicians." She lives in New York City. Peter Malone has illustrated many books, including T"he Magic Flute "and" King Arthur and His Court." He lives in Bath, England.
Praise For My Mothers' Daughter…
Publishers Weekly Historically minded readers have plenty of choices, too. Working in the same vein as in her We Goddesses: Athena, Aphrodite, Hera, Doris Orgel brings an imaginative, feminist slant to Greek mythology in My Mother's Daughter: Four Greek Goddesses Speak, illus. by Peter Malone. Here she finds an approach virtually guaranteed to interest girls-she gives voice to mother-daughter pairs, Leto and Artemis, Demeter and Persephone, allowing each speaker to offer her own perspective on shared experiences. School Library Journal Four Greek goddesses-Leto, Artemis, Demeter, and Persephone-tell their stories. The familiar tales are retold with a decidedly female slant-they are all about women as mothers and daughters, revealing the strength and importance of those relationships. From the goddesses' point of view, men are mainly violent braggarts, serving as backdrops and occasionally moving the plots along. Though Orgel's characters do come to life, the storytelling is stilted, and the endings seem abrupt. The book does include a handy glossary of names and places, with helpful pronunciation, and a good list of sources. Its tone may strike a chord with mythology fans, but this title will be a hard sell for most readers.
Advertisement