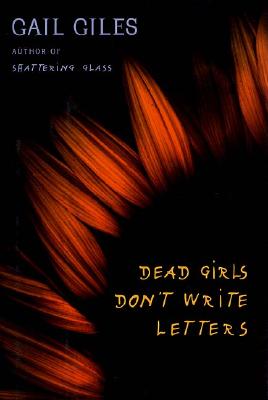 Dead Girls Don't Write Letters
Hardcover

* Individual store prices may vary.
Description
Sunny Reynold's sister, Jazz, dies in a fire. Then one day a letter arrives, a letter from Jazz. A girl follows. But she can't possibly by Jazz--or can she? She seems to know all the family secrets, but Not-Jazz clearly has a few secrets of her own. Compelling, edgy, and suspenseful, Dead Girls Don't Write Letters will keep you guessing. And just when you think you know what's real and what's not, Gail Giles unfurls another surprise.
Praise For Dead Girls Don't Write Letters…
Publishers Weekly As she did with her first novel, Shattering Glass, Giles once again proves that she knows intimately the workings of the adolescent mind, even if the ending here may raise more questions than it answers. "Things had been getting a little better until I got a letter from my dead sister," begins 14-year-old narrator Sunny Reynolds. Her 18-year-old sister, Jazz, allegedly perished in a fire in February in New York City, although her remains could not be identified. So when a letter arrives from Jazz in May, saying that she will arrive on Sunday, Sunny has mixed feelings. Since Jazz's death, Sunny's mother has been severely depressed and her father has stepped up his drinking. "Everybody misses Jazz. Everybody but me," says Sunny. But the girl who arrives on Sunday is not Jazz. Unraveling the mystery of this girl's true identity keeps the pages turning, but the strength of the novel lies in the convincing interactions between Sunny, her parents and the imposter. Scenes of Sunny and her father tiptoeing around Sunny's emotionally fragile mother raise the stakes, and Sunny's decision to confront the intruder herself is the highlight. Unfortunately, the swift wrap-up (in which Sunny's maternal grandmother arrives and delivers a confusing denouement) undercuts the carefully crafted nuances of complicated familial relationships. Booklist In Shattering Glass (2002), Giles gave readers a huge surprise at the book's beginning. Here a major twist, one of several, comes at the end, though it raises more questions than it answers. Ninth-grader Sunny is not entirely sad about the death of her 18-year-old sister in a New York apartment fire. Jazz's perfection has been a thorn to Sunny, but it was all that sustained their depressive mother and alcoholic father. Her death has pushed both parents over the edge. Then one day, a letter from Jazz arrives, and soon after, Jazz herself returns, claiming she was away and only recently learned about the fire. But this girl isn't really Jazz, though she does resemble her and seems to know enough about her to assume her life. Both Sunny and her father realize the truth; Mother seems not to. For a while, though, everyone is willing to have Jazz alive. This is a page-turner with sharp dialogue and psychologically intriguing viewpoints. Readers are continually kept off balance as Jazz and her motives change like shapes in a fun-house mirror. But when Sunny asks her final question, "What have I done?" readers might wish for a clearer answer. School Library Journal Sunny receives a letter from Jazz explaining that she was away working in a repertory theater when her apartment burned to the ground. Then Jazz, or Not-Jazz as Sunny calls her, returns home. Her mother has become addicted to sleeping pills and Dad has fallen back into the bottle since his daughter's "death." Sunny and her father soon realize that the young woman is indeed not Jazz, even though she knows a great deal about their family history and secrets. As Sunny investigates, she begins to discover who this imposter is and how she knows so much about their family. This novel is not of the same quality as Giles's Shattering Glass (Roaring Brook, 2002), and the ending is truly a bolt from the blue. Readers' reactions may range from shock to frustration to confusion to anger that they've invested time in this book. The plot is intriguing, but the ending is just too unclear.
Roaring Brook Press, 9780761317272, 144pp.
Publication Date: January 1, 2003
About the Author
Gail Giles, author of "Shattering Glass "and" Playing in Traffic," is a native Texan who now lives in Anchorage, Alaska.
or
Not Currently Available for Direct Purchase