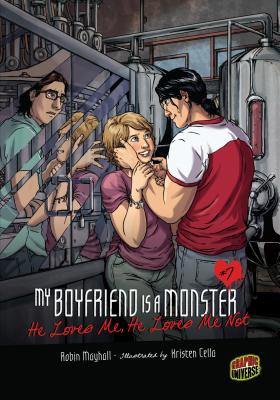 He Loves Me, He Loves Me Not (Paperback)
Graphic Universe, 9780761385486, 127pp.
Publication Date: April 1, 2013
Description
Who knew that the climate in central Texas was perfect for wine-making? Apparently Serena's parents did. The family has been transplanted to a vineyard in the tiny, isolated town of Rojo. It seems to Serena that everyone in Rojo--where the biggest event is the Friday night high-school football game--is exactly the same, until she meets two very different boys: Cam, a gentle intellectual who helps Serena with her assignment on Dr. Jekyll and Mr. Hyde; and Lance, the pampered and volatile star of the football team who has fallen hard for Serena. Then two cheerleaders disappear, and Serena finds herself wondering how Lance is involved. But is she really starting to suspect her boyfriend of murder? Soon she is faced with a scary truth: Cam and Lance are the same boy. The cure for what ails them him may be found in her family's own wine vats--but who will Serena be left with if she cures him?
Advertisement