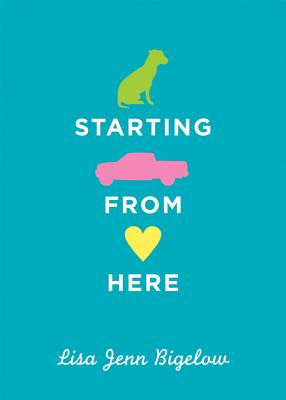 Starting from Here
Hardcover

* Individual store prices may vary.
Other Editions of This Title:
Paperback (11/1/2016)
Description
Sixteen-year-old Colby Bingham's heart has been broken too many times. Her mother has been dead for almost two years, her truck driver father is always away, her almost girlfriend just dumped her for a guy, and now she's failing chemistry.
When a stray dog lands literally at her feet, bleeding and broken on a busy road, it seems like the Universe has it in for Colby. But the incident also knocks a chink in the walls she's built around her heart. Against her better judgment, she decides to care for the dog.
But new connections mean new opportunities for heartbreak. Terrified of another loss, Colby bolts at the first sign of trouble, managing to alienate her best friend, her father, the cute girl pursuing her, and even her dog's vet, who's taken Colby under her wing. Colby can't start over, but can she learn how to move on?
Praise For Starting from Here…
"Here's a winner of a first novel, vivid and honest, with a fast-moving plot and a cast (including a lovable dog) that leaps off the page and is headed by an appealing and realistically flawed protagonist whose struggles lead her to growth, understanding, and hope."

—Nancy Garden, author of Annie on My Mind and Endgame


"Colby is an original—you'll root for her as she tries to outrun her fears. Bigelow's book takes a poignant look at moving on after loss."

—Ellen Wittlinger, author of Parrotfish and Hard Love


"Can saving a dog's life make you want to save your own? Wry, sad, and subtly, sweetly sexy, Starting from Here is a breath of fresh air in a storm of vampires and zombies, the kind of compulsively readable, realistic story of love lost and love found you'll want to read over and over again."

—Laura Ruby, author of Good Girls


"Starting from Here is full of heart. There's romance, pain, and humor, characters you'll quickly care about, and an ending that feels perfect. I didn't want to stop reading. Don't miss this one!"

—Cheryl Rainfield, author of Scars
Amazon Childrens Publishing, 9780761462330, 282pp.
Publication Date: August 7, 2012
or
Not Currently Available for Direct Purchase