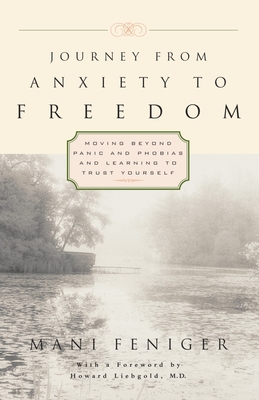 Journey from Anxiety to Freedom: Moving Beyond Panic and Phobias and Learning to Trust Yourself (Paperback)
Moving Beyond Panic and Phobias and Learning to Trust Yourself
Prima Lifestyles, 9780761508601, 320pp.
Publication Date: January 8, 1997
Description
-By revealing her own story, Mani Feniger reminds us that our biggest fear can become our most profound teacher.-
--Geneen Roth, bestselling author of When Food is Love
Your heart pounds, palms sweat, eyes blur, breathing becomes difficult, and you feel dizzy or disoriented. You're in a panic, even though there is no apparent danger. Every year millions of people suffer from anxiety disorders--now the number one mental health issue among women, and second only to substance abuse among men.
In her new book, Journey from Anxiety to Freedom, author Mani Feniger shares her own struggle with panic and phobias, taking the readers on a journey from her terrifying first panic attack, to her renewed confidence driving across bridges, flying in airplanes, and finally taking a long-desired trip abroad. Readers may identify with her story and the vivid descriptions of seven other men and women whose lives were once compromised by fear. Anxiety sufferers will emerge with practical tools and motivation, knowing that others like themselves have faced their worst fears, and now live with peace of mind.
By sharing the inspiring stories of diverse people, including Howard Liebold, M.D., who wrote the foreword, Journey from Anxiety to Freedom calmly walks readers through:
-Uncovering their own anxiety secrets
-Finding their turning points
-Designing their own program for healing
-Practicing exercises and meditations
-Developing skills and attitudes that promote trust.
About the Author
Mani Feniger is a certified clinical hypnotherapist and counselor practicing in the San Francisco Bay Area. She is founder of the Anxiety and Phobia Peer Support Network--a toll-free telephone support service. She has taught workshops for over 15 years in the recovery and growth movement and lives in Berkeley, California.
Praise For Journey from Anxiety to Freedom: Moving Beyond Panic and Phobias and Learning to Trust Yourself…
"By revealing her own story, Mani Feniger reminds us that our biggest fear can become our most profound teacher."
—Geneen Roth, bestselling author of When Food is Love
Advertisement