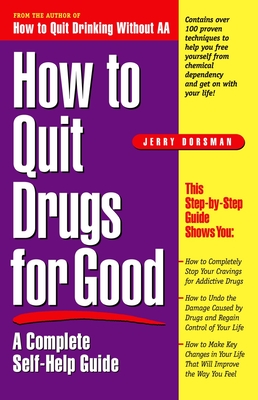 How to Quit Drugs for Good: A Complete Self-Help Guide (Paperback)
A Complete Self-Help Guide
Prima Lifestyles, 9780761515173, 384pp.
Publication Date: October 28, 1998
Description
Free Yourself from Addiction
Quitting drugs may be the best thing you can do for yourself and your loved ones. But it can also be the toughest challenge of your life. This book can help. Jerry Dorsman, author of the acclaimed How to Quit Drinking Without AA and a respected therapist who specializes in addiction recovery, has helped thousands of people quit drugs and get on with their lives. In How to Quit Drugs for Good, Dorsman helps you find the best approach to beating any drug habit from barbiturates and prescription drugs to marijuana, cocaine, and heroin. Through a series of self-discovery exercises, worksheets, and checklists, you will learn how to:
.Determine if you have a drug problem
.Examine your individual reasons for using drugs
.Decide when and how you want to quit
.Develop your own treatment plan
.Choose the techniques that will work for you
.Create your own success
.And much, much more
About the Author
Jerry Dorsman is a certified addictions counselor in private practice in Elkton, Maryland. He also works at a mental health clinic inMaryland providing addictions counselingto individuals who have mental health disorders in combination with drug and alcohol problems. Jerry is the author of two books on addictions and numerous published articles. Most of his articles havebeenon self-help topicssuch asovercoming addictions, improving health, and managing stress. For more about this author, see http: //self-renewal.com/about-us-contact-info/."
Praise For How to Quit Drugs for Good: A Complete Self-Help Guide…
Free Yourself from Addiction
Advertisement