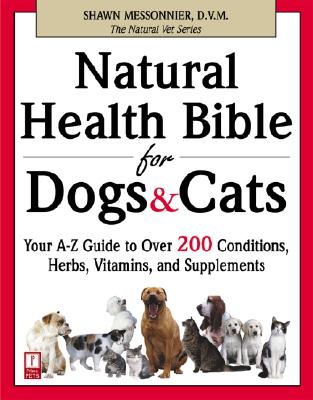 Natural Health Bible for Dogs & Cats: Your A-Z Guide to Over 200 Conditions, Herbs, Vitamins, and Supplements (Paperback)
Your A-Z Guide to Over 200 Conditions, Herbs, Vitamins, and Supplements
Three Rivers Press, 9780761526735, 512pp.
Publication Date: May 31, 2001
* Individual store prices may vary.
or
Not Currently Available for Direct Purchase
Description
2000 Winner, Better Health for Life Award, Cat Writer's Association (CWA)
When it comes to your dog's or your cat's health, you want the best health care available. But did you know that conventional medicine is not the only answer, or even the best answer?
Inside you'll learn from a respected veterinarian how the therapeutic wonders of natural medicine can benefit your dog or cat. This comprehensive guide discusses more than 40 common conditions or diseases that can affect your pet and how they can be treated or improved with natural medicine.
Easy to understand and use, with cross-references between conditions and treatments, this informative resource includes:
·An A-Z guide to common health conditions
·An A-Z guide to herbs, vitamins, and supplements
·Dietary recommendations for specific health concerns
·Proven complementary therapies for your pet
·And much, much more!
Do your pet a great favor—add this complete reference to your library. You'll both be glad you did.
Inside, natural treatments for:
·Allergies
·Obesity
·Cancer
·Kidney Disease
·Arthritis
·Heart Disease
·Feline Leukemia
·Dental Disease
·Ear Infections
·And many more common conditions
"Incredibly well thought-out and organized. This bible will serve as an excellent reference for veterinarians and pet owners alike." —L. Phillips Brown, D.V.M., product manager, Inter-Cal Nutraceuticals
"A concise overview of common animal conditions and available complementary therapies that will help readers ensure their pets and patients receive the best treatment." —Myrna Milani, D.V.M., author, Preparing for the Loss of Your Pet
"This bible is a 'new testament' that may help pet caregivers heal their sick pets." —Alice Villalobos, D.V.M.
About the Author
Dr. Shawn Messonnier is a well-known veterinarian, lecturer, consultant, and pet care advocate. After graduating from Texas A&M College of Veterinary Medicine in 1987, he opened Paws and Claws Animal Hospital in Plano, Texas. At that time it was the first office in Plano to offer specialized services for exotic pets.

After seeing that the number of cats and dogs afflicted with chronic medical problems failed to improve over the years with conventional medicine, Dr. Messonnier turned to alternative therapies. Encouraged by positive results, he opened the Acupuncture & Holistic Animal Health Care Center as part of his ongoing practice.

In addition to authoring numerous papers and chapters of books on a range of topics, Dr. Mesonnier has written eighteen books for both pet owners and veterinarians. Currently he serves on the advisory board of the highly respected international veterinary journal, "Veterinary Forum, " and is creator and editor-in-chief of the leading publication for doctors treating exotic pets, "Exotic Pet Practice."

He also lectures widely at veterinary conferences both inside and outside the United States.
Praise For Natural Health Bible for Dogs & Cats: Your A-Z Guide to Over 200 Conditions, Herbs, Vitamins, and Supplements…
Holistic and Complementary Therapies for Optimal Health
Advertisement