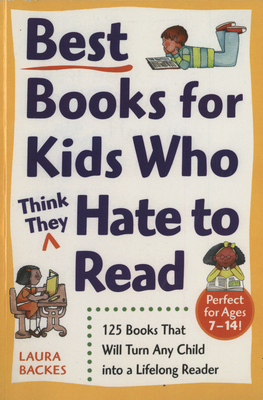 Best Books for Kids Who (Think They) Hate to Read (Paperback)
125 Books That Will Turn Any Child into a Lifelong Reader
Three Rivers Press, 9780761527558, 400pp.
Publication Date: July 17, 2001
* Individual store prices may vary.
Description
Get Your Child Hooked on Books!
Reading can become a favorite part of any child's life—even children who think they hate to read. And, with the help of this unique book, it's easy to put your reluctant reader on the path to becoming an enthusiastic reader. Inside are 125 books that are certain to ignite your child's interest in reading. You'll find a variety of titles with real kid appeal—the best of the best for children of all reading levels. These books will captivate your child's interest and create a passion you never thought possible. So, for the love of reading and your child, come inside, explore all 125 books, and discover:
·Complete descriptions and synopses
·The appeal of each book to reluctant readers
·Suggested audience and reading levels
·Recommended readings if your child enjoys a particular book
·And much, much more!
By developing a love of reading and an emotional connection to books and ideas, your child can develop and maintain a high level of interest in reading—and get a head start on life.
"An excellent resource for parents and educators interested in promoting literacy among children, with practical tips on how to make reading a fun, educational, and rewarding experience for children of all ages."
—Stephen Green, Ph.D., child development specialist, Texas A&M University
About the Author
Laura Backes is a former freelance editor and New York literary agent for children's books and is a frequent speaker at library and writer's conferences. She and her husband, Jon Bard, have published the Children's Book Insider: The newletter for Children's Writers for the past ten years. They live in Fort Collins, Colorado.
Praise For Best Books for Kids Who (Think They) Hate to Read: 125 Books That Will Turn Any Child into a Lifelong Reader…
Get Your Child Hooked on Books!