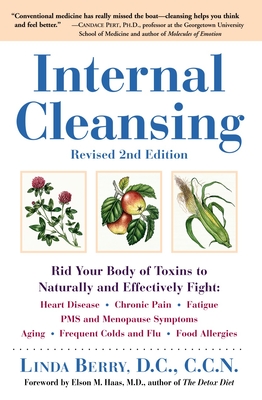 Internal Cleansing, Revised 2nd Edition: Rid Your Body of Toxins to Naturally and Effectively Fight: Heart Disease, Chronic Pain, Fatigue, PMS and Men (Paperback)
Rid Your Body of Toxins to Naturally and Effectively Fight: Heart Disease, Chronic Pain, Fatigue, PMS and Men
Harmony, 9780761529323, 368pp.
Publication Date: January 4, 2001
* Individual store prices may vary.
or
Not Currently Available for Direct Purchase
Description
Cleanse Your Body of Pollutants and Other Impurities
Why not feel gloriously better? Every day our bodies are bombarded with pollutants from food, air, and stress. This buildup of toxins is bad for you and ultimately leads to fatigue, depression, and a host of other chronic health problems.
In this book are ways to help you give your body a fresh start and achieve vibrant good health. You will learn how to:
.Recognize and avoid toxins in air, food, and water
.Use herbs, fiber, and therapeutic food powders for cleansing
.Enjoy tasty recipes and follow a healthful diet to complement cleansing
.Improve your digestion, your outlook on life, and your overall health
"A wonderful, integrated approach towards cleansing. All individuals who are trying to make their way in a congested, polluted, toxic world will greatly benefit." Jeffrey S. Bland, Ph.D., author of The 20-Day Rejuvenation Diet Program
"Menopause and perimenopause are times of great transition. Dr. Berry's book will help women make that time easier and more enjoyable." Mary Ann Mayo, coauthor of The Menopause Manager
"A comprehensive and readable guide that should become a valuable companion for all who are intent upon improving their lives and living well." Efrem Korngold, L.Ac., O.M.D., coauthor of Between Heaven and Earth
"Conventional medicine has really missed the boat cleansing helps you think and feel better." Candace Pert, Ph.D., professor at the Georgetown University School of Medicine and author of Molecules of Emotion
About the Author
Linda Berry is a chiropractor, a certified clinical nutritionist, and a diplomate of the American Chiropractic Board of Nutrition. She specializes in helping thousands of people rid themselves of toxins and enjoy a better life.
Praise For Internal Cleansing, Revised 2nd Edition: Rid Your Body of Toxins to Naturally and Effectively Fight: Heart Disease, Chronic Pain, Fatigue, PMS and Men…
Cleanse Your Body of Pollutants and Other Impurities
Advertisement