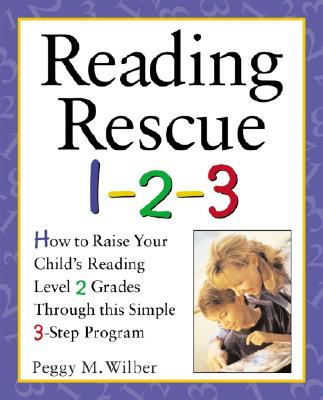 Reading Rescue 1-2-3: Raise Your Child's Reading Level 2 Grades with This Easy 3-Step Program (Paperback)
Raise Your Child's Reading Level 2 Grades with This Easy 3-Step Program
Harmony, 9780761529637, 272pp.
Publication Date: September 28, 2000
Description
Turn Your Child into a Great Reader
Are you concerned about your child's reading ability? Does your child hate to read? If so, you are not alone. In fact, 38 percent of American fourth graders are unable to read at a basic level. But now you can turn your nonreader child into a reading star--in just a few short weeks.
Based on research done at Yale, this simple yet revolutionary guide merges the three essential elements of reading instruction: auditory training, phonics, and whole language. Inside, teachers and parents will find easy-to-read cartoons, games, and fun phonic sheets that will help almost any child read at or above grade level. Reading expert Peggy Wilber will show you how to help your child develop better fluency, language skills, and comprehension. You'll learn how to:
Determine your child's specific reading needs Help your child develop comprehension strategies Enhance your child's phonic skills Choose great reading selections at the right level for your child And much more
-This is an effective, user-friendly program for parents who want to get involved in their child's literacy education.- --Doug Wittenberg, executive director, Whiz Kids Tutoring Inc.
-An invaluable tool in helping teachers and parents partner in a most daunting task . . . teaching our children to read with comprehension.- --John T. Jenkins, former state senator, Maine
-An invaluable tool for parents and teachers alike--a very comprehensive book - --Dr. Barbara Swaby, director of the Graduate Reading Program, School of Education, University of Colorado at Colorado Springs
About the Author
Peggy Wilber's life mission is to help children succeed to read. She has a bachelor's degree from Bates College, Lewiston, Maine and a master's degree in education from Boston University. Ms. Wilber is certified in Early Childhood Reading Instruction from the University of Colorado in Colorado Springs, where she lives with her husband and two children. Ms. Wilber has taught and tutored children since the mid-1980s. Motivated by an increasing number of children who needed tutoring in reading, she co-founded the Pikes Peak One+One Program in 1995. This church-based tutoring program provides reading assistance to students from local elementary schools. As Instructional Coordinator, Ms. Wilber trains volunteers, diagnoses students' literacy needs, and creates individualized instructional packets for weekly tutoring sessions. Realizing that parents (grandparents, day care workers, and older siblings) were an untapped valuable resource, Ms. Wilber created training sessions teaching them how to help their children learn to read. After receiving hands-on information, even the most reluctant, -not sure I'm qualified- parents experience success working with their children. Many children have improved one to three reading levels in a semester. Believing that every child can learn to read, Ms. Wilber has provided this kid-tested, parent-proven information in her new book Reading Rescue 1-2-3. It is a hands-on manual combining auditory training, phonics and whole language techniques, making a complete reading instructional program. Peggy Wilber teaches -Reading Stronger- classes at Grace Academy in Colorado Springs. Her web site is www.succeedtoread.com.
Praise For Reading Rescue 1-2-3: Raise Your Child's Reading Level 2 Grades with This Easy 3-Step Program…
Turn Your Child into a Great Reader!
Advertisement