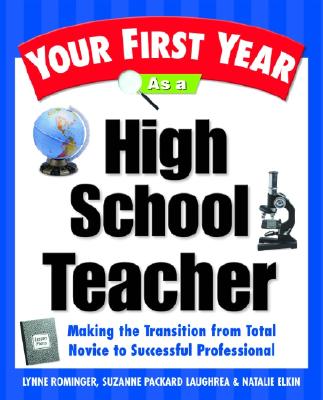 Your First Year as a High School Teacher: Making the Transition from Total Novice to Successful Professional (Paperback)
Making the Transition from Total Novice to Successful Professional
Three Rivers Press (CA), 9780761529699, 448pp.
Publication Date: March 22, 2001
* Individual store prices may vary.
or
Not Currently Available for Direct Purchase
Description
Survive & Thrive in the Classroom From Day One!
Teaching high school students is the toughest job you'll ever love. Of course, often it is an acquired love. You must learn to manage your students' education and play parent, counselor, police officer, and mentor. Wow! Now relax—it doesn't have to be overwhelming. With a little preparation you can ensure that you and your students get the most out of your time in the classroom and enjoy it!
Full of real-world advice and answers for the complex issues facing today's high school teachers, this down-to-earth and witty book will teach you how to create an atmosphere of cooperation, learning, and respect within your classroom. Use this helpful guide as your personal mentor to achieve a successful and satisfying career as a high school teacher.
Earn straight A's your first year by knowing how to:
·Create an attention-grabbing and interactive teaching environment
·Manage difficult students and unique teenage problems
·Communicate, educate, and have fun with your students
·Balance the demands of old-school administrators and pushy parents
·Fairly assess, grade, and evaluate students
·Develop effective and engrossing lesson plans
"Straightforward, up-to-date, and engaging. I've seen a lot of resource books for new teachers, and this is the best of the bunch."
—Wendell Geis, continuing education administrator, University of California, Davis
About the Author
Lynne Rominger is a teacher and freelance writer. An accomplished journalist, she lives in Roseville, California.

Suzanne Packard Laughrea, a respected speaker and presenter on education and English, has 19 years of high school teaching experience. She lives in Rocklin, California.

Natalie Elkin is a high school teacher with a psychology background who also has experience as a middle school teacher. She resides in Sacramento, California.
Praise For Your First Year as a High School Teacher: Making the Transition from Total Novice to Successful Professional…
"Kids are smarter than we sometimes give them credit for!"
— Roxanne P., Buffalo, New York
"The most fun part of teaching is simply listening to the things kids say. On the first day of school I was introducing the subject matter we'd be covering in American history. I asked the kids to think of how a knowledge of history could help people to get along better in life. One of the tough kids in class wasn't volunteering any answers, so I called on him to respond. As he sat up straight in his seat, some of his buddies began guffawing behind him. I ignored them and repeated the question: 'How do you use history to get along?' He turned around to his friends and said, without missing a beat, 'Knock off the laughing, or you're history.'"
—Becka R., Mesa, Arizona
"Sometimes the day's curriculum goes in unexpected directions, no matter how well you plan. Jeff, a chemistry teacher in Minnesota, sat down after a class to plan his next unit. "Suddenly, this loud crack scared me half to death," Jeff says. "I must have jumped three feet. Let's just say one of my students had mixed something combustible! You can tell them over and over again to clean up their messes, but sometimes they don't!"
"What did I learn my first year of school? Get organized!…Even two minutes of disorganization results in complete chaos for the rest of the hour. Get organized."
— Robert T., Galveston, Texas
"Some lessons you only learn through experience."
— Joan M., Kent, Washington
"I really benefited from our state's mandated mentor system my first year teaching, especially in the area of discipline. I overcame several really difficult discipline issues with the sage advice of my mentor. I can't recommend mentoring highly enough. It gave me the foundation I needed to continue teaching through the rough spots."
— Tamara B., Michigan
"I have discovered over the years that there is no technique that always works. What was magic last week is boring this week. To that end, I frequently change the environment by rearranging furniture, updating the materials I place on my walls, and completely changing the look and feel of my classroom….Ever since I gave up the 'nailed-to-the-floor' mind-set, teaching¾and learning—have been exciting for all of us."
— Genna R., Phoenix, Arizona
Advertisement