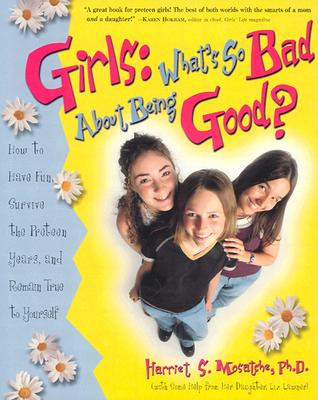 Girls: What's So Bad about Being Good?: How to Have Fun, Survive the Preteen Years, and Remain True to Yourself (Paperback)
What's So Bad about Being Good?: How to Have Fun, Survive the Preteen Years, and Remain True to Yourself
Three Rivers Press (CA), 9780761532897, 240pp.
Publication Date: June 14, 2001
Description
A Girl's Guide to Growing Up
Being a girl is a lot of fun most of the time. But some days are really difficult. Dealing with a body that is changing before everyone's eyes, increasing amounts of schoolwork, boys, other girls, friends, makeup, clothing, parents. Wow Life as a preteen or early-teen girl is tough, and that's why every girl has questions about growing up. Fortunately, now you have some help.
Girls: What's So Bad About Being Good? is your new guide to surviving those trying times and feeling good about yourself in the end. Inside, a mom and her daughter--who's about the same age as you--team up to help you figure out what's really important in life and how you can become the person you want to be. You'll find some great ways to handle emotional issues and deal with daily crises as you discover how to:
-Develop a positive self-image
-Maintain healthy relationships with parents, friends, and boys
-Deal with peer pressure, bullies, brats, and violence
-Dream big and turn those dreams into reality
-And so much more
"A lively, relevant, and valuable resource that can not only empower but also help girls keep open the lines of communication with the important adults in their lives." --Marty Evans, national executive director, Girl Scouts of the USA
"A great book for preteen girls The best of both worlds with the smarts of a mom and a daughter " --Karen Bokram, editor in chief, Girls' Life magazine
About the Author
Harriet S. Mosatche, Ph.D., is the director of Program Development for Girl Scouts of the U.S.A. In that position, she writes or directs the writing of resources for girls from 5 to 17 and for the adults who work with them. Since 1997, Harriet and her daughter Liz have been offering advice in Ask Dr. M and Liz, a popular section of the Just 4 Girls pages of the national Girl Scout Web site. In addition to her work with Girl Scouts, Harriet is a partner in OutPerform LLC, which offers consulting services to schools and community agencies in program development and evaluation. She also conducts workshops on child and adolescent development and family relationships for parents, kids, and teachers. Harriet received her Ph.D. in developmental psychology from the City University of New York. Prior to joining the Girl Scout organization, she was a college professor for a dozen years, with six of those years as chairperson of the Psychology Department at a New York City college. Her publications, in addition to Girls: What's So Bad About Being Good?, include articles in scholarly journals and popular magazines as well as two books, the most recent being Too Old for This, Too Young for That! Your Survival Guide for the Middle-School Years (coauthored with Karen Unger), winner of the 2000 Gold Award winner for nonfiction from the National Association of Parenting Publications. Harriet has volunteered as a Girl Scout leader since 1993 and now works with a troop of 12 and 13 year old Cadette Girl Scouts. She lives in New York with her husband, Ivan Lawner, and their two children, Rob and Liz.
Praise For Girls: What's So Bad about Being Good?: How to Have Fun, Survive the Preteen Years, and Remain True to Yourself…
A Girl's Guide to Growing Up
Advertisement