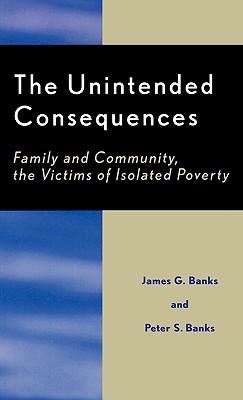 The Unintended Consequences
Family and Community, the Victims of Isolated Poverty
Hardcover

* Individual store prices may vary.
Other Editions of This Title:
Paperback (4/29/2004)
Description
This book describes the tremendous impact of housing policy, which oftentimes discourages communities and inhibits family stability. The book traces housing history from the Victorian Era in London to the present. It gives special attention to Washington, D.C., presenting various grassroots programs that have grown to provide community support in severely impoverished areas. The Unintended Consequences gives important firsthand accounts of federal urban initiatives and explains the importance of nurturing community. Historical analysis is blended with interviews with public housing residents and officials to supplement the firsthand account of primary author James Banks. This book is appropriate for urban planners, policy makers, advocates for the urban poor, as well as students of sociology and urban studies in the United States.
University Press of America, 9780761828563, 158pp.
Publication Date: May 3, 2004
About the Author
James G. Banks, a native and resident of Washington D.C., served as an official for housing programs at the local and federal levels for nearly thirty years. He also served as a housing consultant for numerous clients, including the U.S. Department of Housing and Urban Development and the Federal National Mortgage Association. Peter S. Banks is a writer living in Washington, D.C.