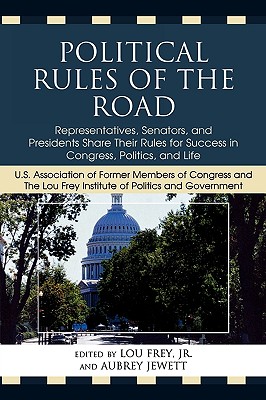 Political Rules of the Road: Representatives, Senators and Presidents Share Their Rules for Success in Congress, Politics and Life (Paperback)
Representatives, Senators and Presidents Share Their Rules for Success in Congress, Politics and Life
University Press of America, 9780761847731, 153pp.
Publication Date: July 29, 2009
About the Author
Louis (Lou) Frey, Jr. served as a Republican Congressman from Florida from 1969 to 1979. He is a partner in the law firm of Lowndes, Drosdick, Doster, Kantor & Reed, PA., in Orlando, Florida and founder of the Lou Frey Institute of Politics and Government at the University of Central Florida. Frey is the recipient of the U.S. Association of Former Members of Congress 2009 Distinguished Service Award. Past recipients include Gerald Ford, Thomas "Tip" O'Neill, Dick Cheney, Al Gore, Bob Dole, and George Mitchell. Aubrey Jewett is associate professor of political science at the University of Central Florida. He served as an American Political Science Association Congressional Fellow from 2003 to 2004. He is coauthor of Politics in Florida, 2nd ed. and author of numerous articles and book chapters on American and Florida politics.
Advertisement